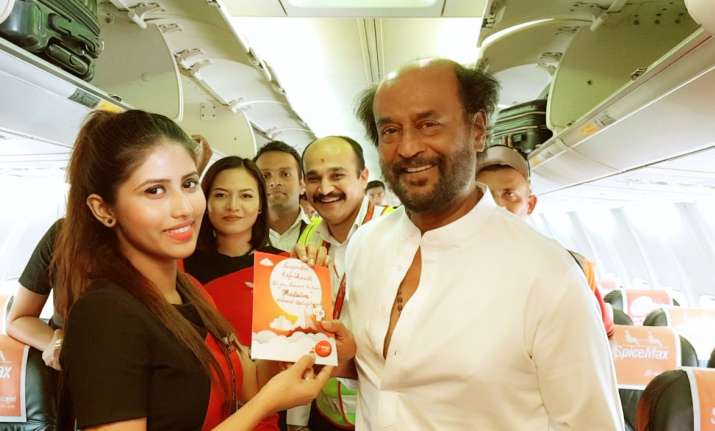 The entire has nation is being gripped by the Kaala fever. Cinephiles and Rajinikanth fans have lined up outside the theatres to catch a glimpse of their 'Thalaiva' on the big screen. We have shown you how the fan frenzy can be seen throughout the country with people celebrating Pa Ranjith's film with drum rolls and firecrackers. Amidst all this madness around Kaala, the lead actor Rajinikanth has already flown to Darjeeling to start working for his next film directed by Karthik Subbaraj. This will be the Thalaivar's first film in the North Bengal hills and the actor will be staying in the hills for the next 37 days.
While speaking to IANS, Rajinikanth once told, "This is my first visit to northern West Bengal. I am sure, I will fall in love with the hills."
Superstar Rajinikanth Arrives at Bagdogra Airport @rajinikanth @aaibagairport pic.twitter.com/7pjiwI1tVC

— I Love Siliguri (@ILoveSiliguri) June 6, 2018
Several pictures of Rajinikanth being welcomed at the Bagdogra Airport in Silliguri floated on the social media.
Superstar Rajinikanth arrived at Bagdogra Airport from Chennai today afternoon at 2.20pm via Spicejet flight SG 623 and has headed for Kurseong. @rajinikanth @aaibagairport @TheDarjChron pic.twitter.com/TWC3ucVcjX

— I Love Siliguri (@ILoveSiliguri) June 6, 2018
Superstar Rajinikanth Arrives for Movie Shoot in #DarjeelingHills @ Kurseong@rajinikanth pic.twitter.com/fnxG5FUZ0U

— I Love Siliguri (@ILoveSiliguri) June 6, 2018
It was not a day for the faint hearted! Superstar @rajinikanth flew SpiceJet Flight SG623 along with its awestruck passengers, crew and pilots from Chennai to Kolkata and then onwards to Bagdogra! Rumour has it that he also gave a photo opportunity to his fans in #SpiceJet! pic.twitter.com/RF97Su5dtH

— SpiceJet (@flyspicejet) June 6, 2018
Rajinikanth will be shooting for his upcoming film which is yet to be titled, in the Himalayan hill station Darjeeling and Kurseong. Some portions of the film will be short at Mount Hermon School and St Pauls College. Other sequences will be filmed in Kurseong's Christian Forest Rangers College. Several hundred technicians have reached Darjeeling and the film is expected to go on floors on Thursday. Further details about the project haven't been disclosed as yet.
For LIVE updates on Kaala Movie 2018 release, click here.