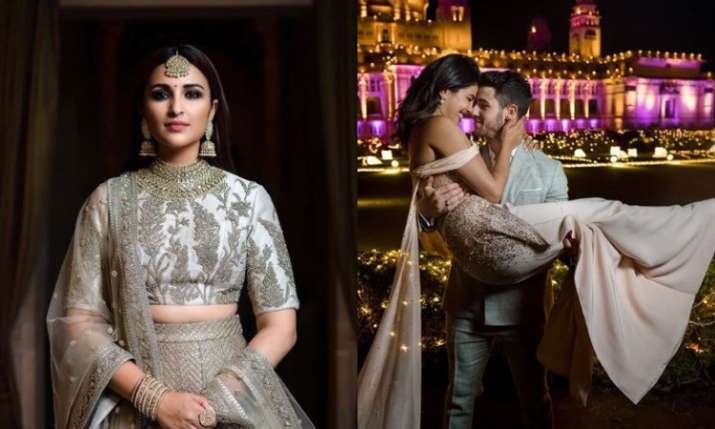 Netizens still can't get over Priyanka Chopra and Nick Jonas' lavish wedding. It has around three months and still pictures from PeeCee and Nick's dreamy wedding are doing the rounds. It was a gala event attended by close friends and family members. After tweeting about joota churai ritual, Parineeti Chopra, who was one of the bridesmaid revealed whether Nick Jonas' friends flirted with her or not.
The actress recently appeared on The Kapil Sharma Show to promote her upcoming movie Kesari. When the host Kapil asked Parineeti about the romantic wedding and joota churai ritual, the actress said that she got lot of cash in INR and Dollars and also diamonds from the groom. When Kapil further asked if Nick's friends flirted with her, she told Kapil, ''Line toh mara par maine line di nahi!''. Earlier, Parineeti took to Twitter to put an end about the specualtions regarding 'joota hiding money'. ''To all those speculating the joota hiding money - you know nothing!! All I can say is - you're wrong!!!!! Haha. Nick was MORE THAN CRAZY HUGELY MADLY GENEROUS! No words. Still reeling. Phew. He shocked us. Whatta playa!!! @nickjonas.,'' she wrote on Twitter.
Recently, a picture of Parineeti giving Rs 2000 note to his Kesari co-star Akshay Kumar has gone viral on the internet. This has left people wondering about what has the actress done to owe him money. To reveal what went behind-the-scenes, Parineeti shared a newspaper cutting that quotes Akshay and herself. In the report, she has explained that Akshay Kumar is a pro at card games and losing multiple rounds to him left Parineeti indebted with Rs 2000. When Akshay playfully told a newspaper that the actress has not paid him any money that she still owes him. She told the leading daily, "I have lost so much money to him that I can't even tell anyone about it. He is so good at the game that it is almost impossible for him to lose."
I was told by a newspaper that ..... so ... @akshaykumar pic.twitter.com/bgr70uxEQy

— Parineeti Chopra (@ParineetiChopra) March 15, 2019
Meanwhile, during a press conference,  Parineeti said that screen time was not her concern while signing Kesari as she wanted to work with the team involved. "When I met Karan Johar (producer) he told me the one-liner and he made me hear the love song and I immediately said yes to it, I did not even hear the full narration. I knew all these genius people were making an amazing film and I wanted to be a part of it,'' she said.
For those unversed, Kesari is based on Battle of Saragrahi that was fought between British led army of 21 Sikh men and 10,000 Afghan in 1897. It is touted to be one of the most glorious battles ever fought in history. The film bankrolled by Karan Johar's Dharma Productions and directed by Anurag Singh will hit the theatres on March 21. 
Watch Kesari Trailer here