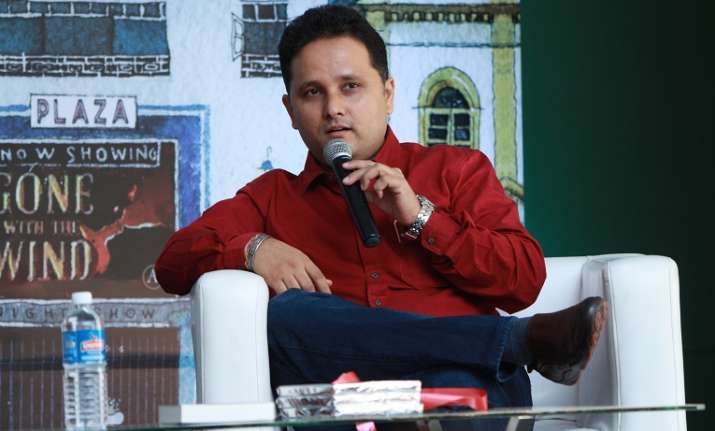 He is the author of the fastest-selling book series in Indian publishing history -- "The Shiva Trilogy" -- and his last book, "Scion of Ikshvaku", was the biggest literary blockbuster of 2015, all of which have together sold over 3.5 million copies.
Now, banker-turned-writer Amish Tripathi's upcoming book narrates the story of Hindu goddess Sita, but the author's interpretation is contrary to her depiction in popular culture.
Sita, the wife of Lord Ram, is generally seen as a symbol of the "Adarsh Bhartiya Nari" -- the Ideal Indian Woman -- and from daily soaps to mythological books, she stands as an obedient and devoted wife.
But is she just the sum total of her wifely submissions?
"Sita was not just an obedient and humble wife; she was a warrior. I was surprised to know that many people do not even know that she was the adopted daughter of King Janak. The feeling that I have got after interacting with so many people is that although people seem aware of the Ramayana, there is very little knowledge about the story of Sita," Tripathi told IANS in a candid chat over breakfast here on Thursday.
"Sita - Warrior of Mithila", which is expected to release by end of May or early June, comes after roughly two years since "Scion of Ikshvaku".
Readers will get to see Sita maa as a feminist icon and, even more importantly, they will get to see her as a warrior, not just her physical strength but also her mental ability," he said.
"One point to be noted is that it is not Ramayana from Sita's perspective; that has been done several times. It is, instead, the story of Sita, where Ram comes as a character in the last part of the book," he reminded.
Mythological fiction raises one question, though. Are the depictions of the characters in the book or even the plot of the novel true?
Tripathi said that Indian civilisation believes in multiple truths and that is the strength of the Indian way of life. Our scriptures basically tell us, he said, that your truth is right from your perspective and my truth is right from my perspective.
"The purpose is to catch up on the lessons and inspirations from their lives rather than worrying about a singular truth," quipped the 43-year-old writer.
So what is the biggest lesson that one can derive from the life of Lord Ram?
"That he was a Maryada-Purushotam, the follower of laws. The main lesson from his life is that an able administrator needs to believe in rule of law. When there is a leader who believes in the rule of law, it is very good for the society -- but very challenging for the family. He represents an ideal follower of laws," contended Tripathi.
"Sita - Warrior of Mithila", is published by Westland, recently acquired by Amazon. One-third of the book was penned in the national capital, at Tripathi's brother's residence here, while the rest was written in Mumbai and Cambodia.
Tripathi worked for 14 years in the financial services industry and quit it only after, in his own words, his royalty check became greater than his salary.
(With IANS Inputs)