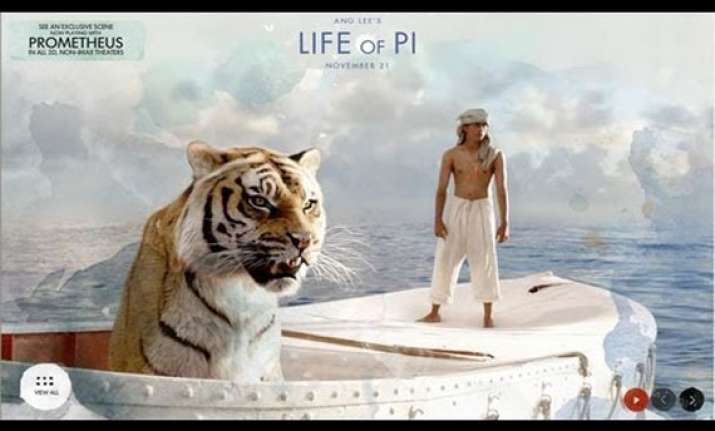 Mumbai, Nov 17:  Ayush Tandon, who will be seen in Oscar-winning director Ang Lee's upcoming film 'Life of Pi' is not only pursuing his dream of becoming an actor but also his father's.
The 14-year-old is the son of TV actor Hatinder and will be seen playing the role of young Pi in Lee's film, which is set to open at IFFI in Goa.
"My father came here to become an actor. It was his dream. He got me into acting through advertisements and films.
Today, even my dream is to become an actor," Ayush told PTI.
Ayush has been trained by his father in dance and acting skills.
"I am happy that what I was unable to do...achieve that my son is doing. He is fulfilling my dream. It is all because of the blessings of almighty that Ayush is doing good work," his father Hatinder said.
When Ayush was signed on for this film he was not much aware about Lee and hence started looking out for information on him.
"When we received a message that Ang Lee sir has selected me I started to dig information about him. I had watched his movie 'Hulk' but was not aware that he had directed it. The experience was such that it could not be erased from my memory," he said.
Ayush also said that he got to know about the casting for this film through an agency and was ecstatic when he finally got selected after two-three rounds of auditions.
Talking about his role, Ayush says, "I play the role of a school going kid up to the age of 12 whose name is actually Piscine Moliter Patel. He is teased by his classmates as 'Pissing' which forced him to adopt Pi a short for Pissing."
Life Of Pi" is based on Yann Martel's novel and also stars debutante Suraj Sharma, who plays the older Pi, along with Tabu and Irrfan Khan.
"I underwent workshop in Taiwan for getting the accent right and make-up. It was a great learning experience," he said.
The film centres around Pi, who is raised in Pondicherry with his family which runs a zoo. They decide to immigrate to Canada, taking the animals along with them on a huge freighter ship steaming from India.
But a terrible storm destroys the ship.. the family and animals perish... only Pi survives on a stranded lifeboat with Bengal Tiger. They miraculously survive 227 days at sea.
"I got to shoot in Taiwan, Pondicherry. It was great experience. It was like family. Ang Lee sir is very simple and friendly person," Ayush said.
He also worked with
Priyanka Chopra
in Vishal Bharadwaj's film '7 Khoon Maaf'.
Ayush has more than 50 ad films to his credit. The young artist has also been receiving offers for acting in films, TV serials and reality shows as well but his family wants him to complete his studies first.
"We don't want to push Ayush too much. We want him to concentrate on his studies. Hence we are being choosy about the projects as we don't want to affect his studies," his father Hatinder said, who has worked in serials like 'Balika Vadhu', 'Fear Files' and others.