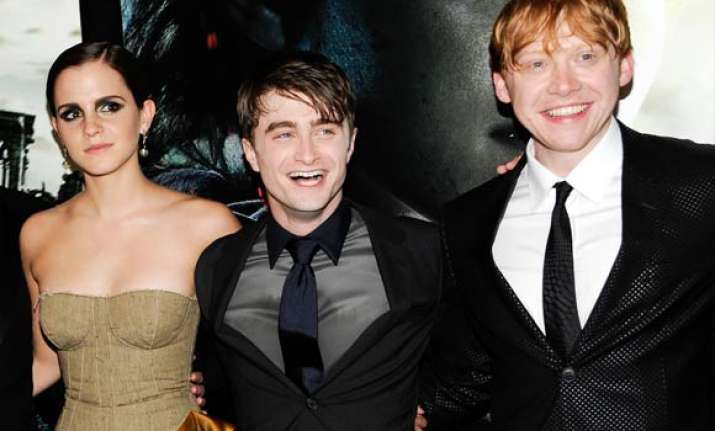 Los Angeles, July 18: The boy wizard has vanquished the dark knight with a record-setting magic act at the weekend box office.

Warner Bros. estimates that "Harry Potter and the Deathly Hallows: Part 2" took in $168.6 million domestically from Friday to Sunday. That beats the previous best opening weekend of $158.4 million, also held by Warner Bros. for 2008's Batman blockbuster "The Dark Knight."

The studio had not yet released international numbers for the full weekend, but "Deathly Hallows: Part 2" has been working the same charms since it began rolling out overseas Wednesday. Through Friday, the film had taken in $157.5 million internationally, putting it on course to become the franchise's first billion-dollar worldwide hit.
"This will be the biggest 'Harry Potter' by far," said Dan Fellman, head of domestic distribution at Warner Bros. "A billion dollars is definitely going to happen."
The current franchise high is $974.8 million worldwide for the first film, "Harry Potter and the Sorcerer's Stone" 10 years ago.

"Deathly Hallows: Part 2" does have the advantage of 3-D screenings, which cost a few dollars more than 2-D shows. Because of the higher 3-D price, plus regular inflation, "Deathly Hallows: Part 2" sold fewer tickets than "The Dark Knight" over opening weekend.

The "Harry Potter" finale also set a record for best opening day domestically Friday with $92.1 million, nearly $20 million ahead of the previous high for "The Twilight Saga: New Moon" two years ago.

Other records for "Deathly Hallows: Part 2: best domestic gross for debut midnight shows at $43.5 million, topping the $30 million for last year's "The Twilight Saga: Eclipse"; best domestic opening in huge-screen IMAX theaters with $15.5 million, surpassing the $12.2 million for last year's "Alice in Wonderland"; and best worldwide IMAX debut with $23.5 million, beating the $20.4 million for "Transformers: Dark of the Moon" two weeks ago.

Paramount's third "Transformers" blockbuster, which had been No. 1 the previous two weekends, slipped to second-place with $21.3 million domestically. It remains the year's top domestic hit with $302.8 million.

The weekend's other new wide release, Disney's animated family flick "Winnie the Pooh," got swamped by "Harry Potter" mania. A return to the hand-drawn animation style of earlier adaptations of A.A. Milne's beloved storybook characters, "Winnie the Pooh" pulled in just $8 million domestically, finishing at No. 6.  AP