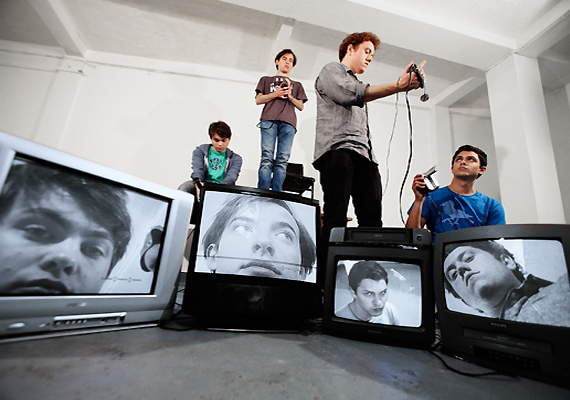 London, Feb 17: For North London indie band Bombay Bicycle Club having their music used on the soundtrack of the latest "Twilight" movie left them with some reservations.

Lead vocalist Jack Steadman admitted that the band faced a dilemma at the prospect of being featured in "The Twilight Saga: Breaking dawn Part 1."

"We ended up just swallowing all of the doubts that we had because we realised that it was going to be fun," says Steadman.

However, on closer inspection, it wasn't the high profile leg up that they were hoping for.

Their track didn't accompany Bella and Edward walking down the aisle or feature in the long awaited sex scene - in fact it was barely noticeable.

"Apparently it is just in the background of one scene in the film very quietly. I haven't seen the film but our drummer went to see it with his whole family and I think they were bitterly disappointed when the song wasn't really in it," recounts guitarist Ed Nash.

Bombay Bicycle Club, which is made up of Jack Steadman, Jamie MacColl, Suren de Saram (all 22) and Ed Nash (21), and are setting their sights on conquering the States this month.

Their five week tour, which began on Tuesday in San Diego, has already sold out dates in New York, L.A., San Francisco and Chicago.

Their latest album, "Different Kind of Fix" was released in the U.S. on January 17th.

The band previously supported Two Door Cinema Club in the U.S., but are excited about taking control and headlining their own shows, "It is weird going and playing shows over there but actually it is quite nice because in this country we are obviously playing quite big venues now, so you lose that thing that you liked so much when you started off being intimate so it is nice to start again somewhere," says Steadman.

Following the tour the boys have set their sights on something they find a little more appealing that vampires and werewolves - women's lingerie.

"I think we have a Victoria's Secret advert in the pipeline which I have just heard about, that is much more exciting than Twilight. I think we are going to be the band in the video. It is early days, let's hope it comes off," laughs Steadman.

After their US dates the band head to Australia to support Elbow before returning to perform a sold out UK tour, finishing on a date at Alexandra Palace performing for 10,000 people.