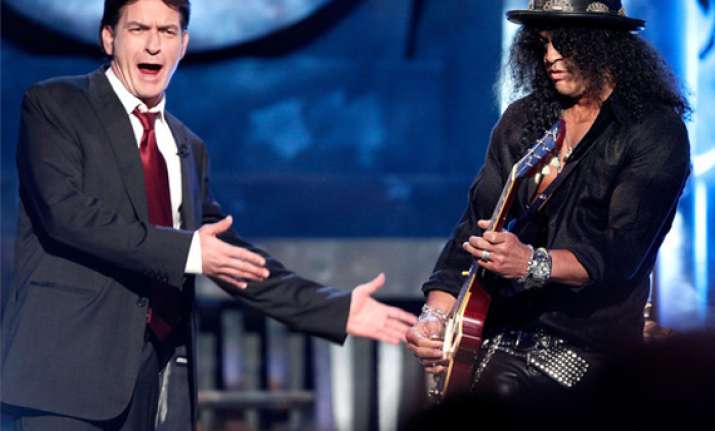 California:
Rock and Roll Hall of Fame guitarist Slash received a star on the Hollywood Walk of Fame Tuesday.
Slash's star is located directly in front of the Hard Rock Cafe? on Hollywood Boulevard.
Among his friends on hand to mark the occasion were actor Charlie Sheen.
"It was June 3rd, 2012, at 10:37 p.m., when I received the following text from Slash, 'Hey Charlie, how's it going? I'm getting a star on Hollywood Boulevard in July. would you want to be one of the speakers on my behalf?'" said Sheen.
"Now I don't know about you, but I don't care how important you think you are, how bitching you find yourself, how many times you got fired, I don't care how many billion-dollar hit TV shows you've had, when a text like that comes through, suddenly you are a 13-year-old boy and you've just been given a backstage pass to rock and roll's biggest party! How 'bout it? I just got to say congratulations, Slash, that star is going to be stepped on more than the coke we did in the 80's." added Sheen.
Slash has sold more than 100 million albums and was nominated for seven Grammys. Time Magazine named him No. 2 on its list of "the Ten Best Electric Guitar Players of All-Time," behind Jimi Hendrix.
"I'm such a part of this scenery, I went to school here, started playing guitar here, rehearsed literally a hundred yards down the street, and you know, ditched the better part of the seventh and eighth grade with my good friend Steven Adler, coming up here and hanging out at the head shops looking at the Led Zeppelin posters," recalled Slash.
"But I got a, what do you call it, a very Technicolor education up here. I've been a part of the Hollywood fabric for a long time, to actually be appreciated by the city of Hollywood is a huge, huge honor. So I want to thank everybody for this, it's unbelievable. All right, so this is thanks to all, as Robert Evans said to say it, and I appreciate it and I think you get the message."
Slash's new album with Myles Kennedy and The Conspirators, "Apocalyptic Love," debuted on the Billboard charts at No. 4 and the band begins a North American tour this week.