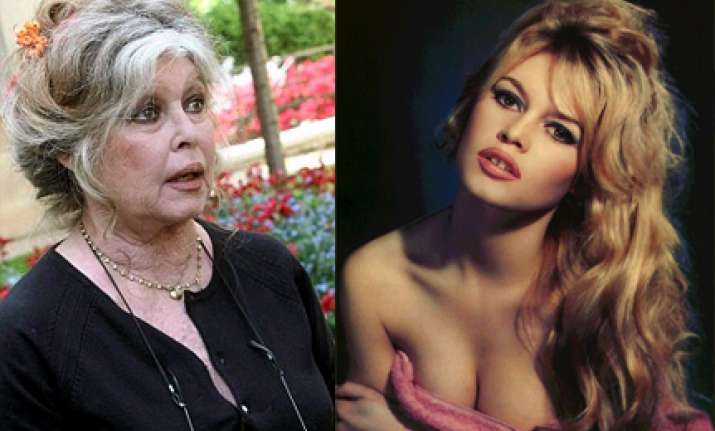 Hollywood legend Brigitte Bardot  celebrated her 75th  birthday with a call to 'splendid twin' Sophia Loren to give up fur for good. Bardot said, this would be the 'best gift she could offer me'.
Bardot abandoned her film career in 1973, aged just 39, becoming a reclusive animal rights crusader and making recent headlines for fiery comments about Islam that landed her in court.
Bardot sent her wishes to Loren, who turned 75 on September 20, but could not resist a chance to further her animal rights cause.
'I wish a happy birthday to Sophia Loren, my splendid twin, and I ask her to stop wearing fur - that is the best gift she could offer me,' she says.
The stars crossed swords in the 990s when Bardot wrote to Loren over ads in which she modelled fur coats, accusing her of 'wearing a cemetery on your back'. Loren never responded.
Half a century ago, Bardot's role as a 'demon-driven temptress' in the 1956 movie And God Created Woman caused a moral storm worldwide.
As Juliette, Bardot danced barefoot, sweaty and dishevelled to a mambo beat in a scene that became a defining moment in film and embodied the end of the prudish postwar era. But stardom proved too much to handle.
Nature is her chief concern today, she insisted. 'Nobody has given a damn, for far too long, despite urgent warnings,' she said of her environment crusade.
'Deforestation leaving animals without a habitat, concrete invading the planet, thousands of factories spewing poison into the atmosphere, millions of cars and planes choking us, intensive farming polluting the water table. Swallows have disappeared, bees are dying out because of pesticides that should have been banned long ago - it's a scandal.'
Holed up since 1973 in the French Riviera resort of Saint Tropez, Bardot has fallen from grace in recent years, with a controversial fourth marriage to a former aide of far-right leader Jean-Marie Le Pen.  She has been prosecuted for inciting racial hatred by attacking what she called the 'Islamisation' of France.
'I say what I think and I think what I say,' she said. 'In a democracy one must have the right to express oneself and that's what I do, even if it displeases.'