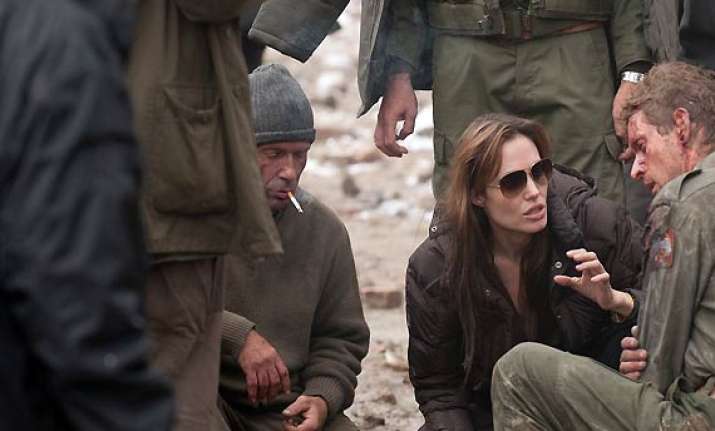 Los Angeles, Dec 6: Hollywood star  Angelina Jolie is being sued by Croatian journalist and author James J. Braddock, who claims that the plot for the film  In The Lnd Of Blood And Honey was lifted from a 2007 article he wrote.

According to the suit, filed in federal court in Illinois, Braddock's story and "Blood and Honey" -- which Jolie wrote, in addition to directing -- tell a similar tale of a rape victim who comes to work as a servant in the camp occupied by the soldiers who have abused her.

"The subject work's main female character is subject to continuous abuse and rape by soldiers and officers in the camp. In addition to being raped continuously by soldiers and officers, she is forced to become a servant at the camp headquarters, a duty assumed by very few of the captives," the suit reads.

"The Motion Picture's main female character is also subject to continuous rape by soldiers and officers in the camp and subsequently becomes a servant at camp headquarters."

Claiming copyright infringement, Braddock -- who also goes by the name Josip J. Knezevic -- has requested a jury trial and is seeking unspecified damages.

GK Films, which is releasing the film, is also named.

Jolie was initially banned from filming in Bosnia, due to reports that the film would feature a rape victim who falls in love with her attacker. The filming permit was reinstated after Bosnia's culture minister was given the script for review.

"In the Land of Blood and Honey" is scheduled for a December 23 release.