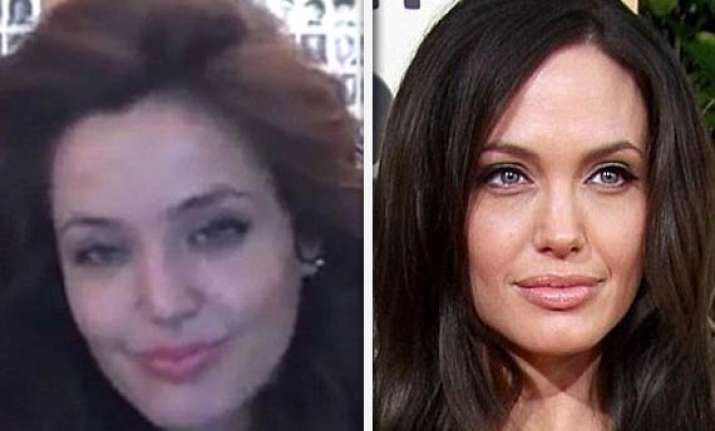 London, Jan 7: Spanish actress Lina sands bears a huge resemblance to Hollywood star Angelina Jolie, a video release on YouTube has revealed, reports Daily Mail.

Lina Sands says in a video interview that she would love to get work as Angelina's double.




'Hi, my name is Lina Sands and I look like Angelina Jolie,' she says. 'I would like to work as an Angelina Jolie look alike.'

The video was filmed last year but has now begun to take the web by storm.

With plump lips and full-bodied brown locks, Sands could easily be mistaken for the award-winning star.

She begins with her hair styled up and shows of her profile to reveal that she really is her likeness from all angles.

Then when she removes the clips from her locks, she appears to resemble Brad Pitt's partner even more.

Model-worthy Sands is five feet eight inches and giving away no signs of her age.




However, she insists she is not as old as Jolie yet, after estimating that her 36-year-old idol is 33 at the youngest guess.

The Jolie double says she has lived in the UK for eight years and has been perfecting her craft for three of those, now it seems she is ready to break out into the lookalikes market.

Working with Susan Scott – an agency that has Kate Middleton and Prince William lookalikes on their books as well as a dead ringer for Queen Elizabeth – the original video has already accumulated over 325,000 views on YouTube.




Some commenters even go as far as suggesting Sands is a better version of the Tomb Raider star.

The agency prides itself on being the first, best and the longest established of its type in Europe and can offer over 8000 lookalikes of famous and infamous people, living and dead.

If Lina's career as a Jolie impersonator doesn't work out she can always rely on her plan B.

She joked: 'I've got a lot of hair! I can sell it and be rich.'