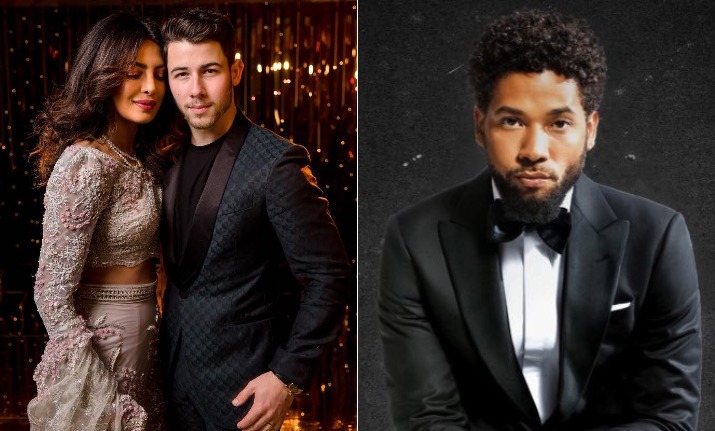 This recent disgusting incident that took place with the American actor and singer Jussie Smollett has left the entire Tinsel Town fuming. Chicago police have opened a hate crime investigation after the actor was attacked by men who chanted racial and homophobic slurs and physically assaulted him. The 36-year-old was attacked while walking about 2 am on Tuesday. Stars are backing the Empire star after he was hospitalised following the heinous attack in Chicago. According to the CNN report, Jussie Smollett was rope-tied and a chemical substance was poured upon him. He brought himself to the hospital and is currently doing fine.
Following the attack, Priyanka Chopra and her husband Nick Jonas expressed solidarity towards Jussie Smollett in two different social media posts. Priyanka Chopra shared a picture of the actor in her Instagram story and wrote, 'Hate will never win' followed by 'Thinking about you'.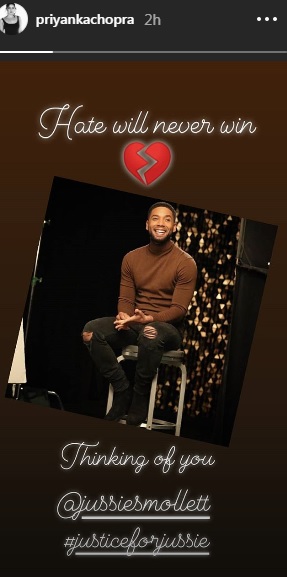 On the similar lines, her husband Nick Jonas also wrote, 'Hate will never win. We stand by you,' sharing a picture of Jussie Smollett.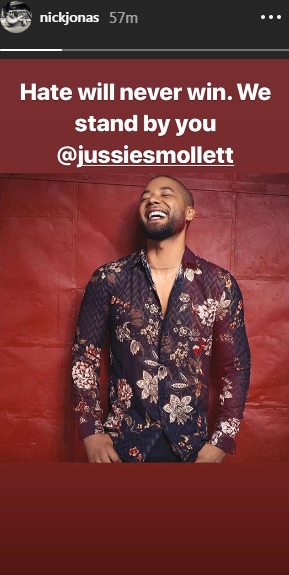 Following the racial attack on the actor, many Hollywood celebrities including John Legend, Kerry Washington, Lee Daniels, Danny Strong, Zendaya expressed their disgust over the crime. They shared their opinions on the recent attacks on their social media.
Sending love to Jussie and the Smollett family after this horrific attack. We support you and pray that you find peace and justice.

— John Legend (@johnlegend) January 29, 2019
Four years ago, @JussieSmollett came out on my show. I'm sending him and his family so much love today. ❤️

— Ellen DeGeneres (@TheEllenShow) January 29, 2019
I want to leave NO room for interpretation.
THIS WAS WRONG. STOP IT. NOW.
Prayers up for #jussiesmollett #standup https://t.co/nxBzeNP4de

— Michael Ealy (@MichaelEaly) January 29, 2019
The attack on #JussieSmollett proves how ignorant #MAGA supporters are ...this is such a good man!
Gives Amputee Boy Handicapped-Accessible Van https://t.co/wQNxf5xE9q via @TMZ

— Ariaa Jaeger (@AriaaJaeger) January 29, 2019
Heartbroken & horrified by what #JussieSmollett was subjected to. Nothing but love & light for him & his family❤️✨As for ANYONE who thinks this is not a criminal act of HATE - #TIMESUP ! SHAME on this #MAGA sham !We are better than this! 🙏🙏🏻🙏🏼🙏🏽🙏🏾🙏🏿
❤️🧡💛💚💙💜

— Donna Murphy (@DMurphyOfficial) January 29, 2019
According to the TMZ, the two men who attacked Jussie Smollett shouted, "This is Maga country". Maga stands for Make America Great Again, Donald Trump's election campaign slogan in 2016.