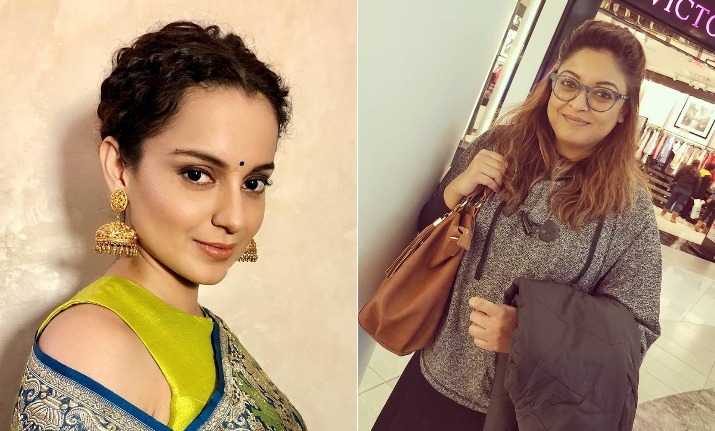 Kangana Ranaut has remained in the headlines ever since her film Manikarnika: The Queen of Jhansi released on silver screen. The actress has fired fresh salvos at all the Bollywood biggies for snubbing her special screenings and never backing her because she spoke against nepotism. After Anupam Kher, Bollywood actress Tanushree Dutta has come out in support of Kangana Ranaut. She claimed that Kangana is a bonafide A list actress, in a statement.
While speaking to ANI, Tanushree Dutta said, "Kangana Ranaut is a bonafide A++ list actress. Why the extra plus because she is the only one who made it to the top of her game in Bollywood without the nagging support and recommendation of A- list male stars, without a high-profile surname or an unrealistically perfect, pure and pious facade that most Bollywood actresses seem to wear on and off screen."
British actor Richard Keep is all praises for Kangana Ranaut, says as a director, she is detailed and pertinent
"Besides being a powerhouse performer she has truly set an example of someone who has made a unique and celebrated place for herself in an industry tough to conquer for an outsider. This Damsel has truly made it all the way despite all the distress; leaving the frat boys club of Bollywood and their dames twiddling their thumbs in abject contempt for her success," she added.
Didn't do anything to get reaction like this: Alia Bhatt on Kangana Ranaut's remarks
Concluding her statement, Tanushree said, "With Manikarnika's success you have hit them on their softest spot and it will take them some time to recover. They will come around eventually...they have to or else they run the risk of being irrelevant."
In a recent interview, Kangana Ranaut claimed that the biggies of Bollywood have ganged up against her because she spoke against nepotism. She also said that nobody attended her special screening while she always praised others' films.