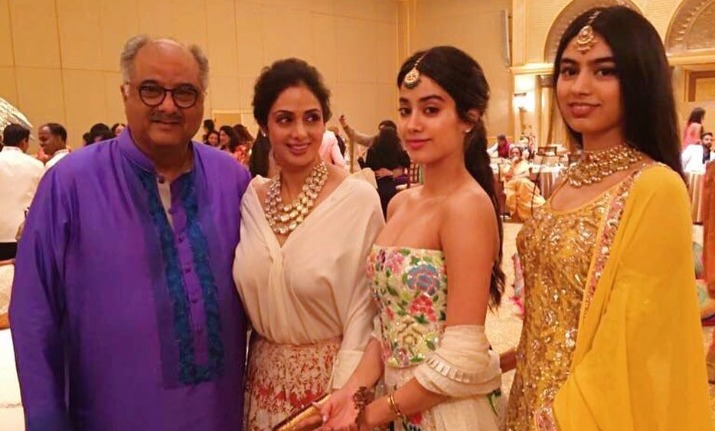 Janhvi Kapoor had a great year in terms of her career. She did her debut film Dhadak, which brought her praises from the audience. She also signed two films including Karan Johar's Takht and Gunjan Saxena biopic. Her debut film Dhadak made Rs 75 crore at the box office and was loved by all. But the year 2018 started on a very shocking note for the actress. In February last year, veteran actress Sridevi passed away due to accidental drowning in her bathtub. The family was devastated. Janhvi immediately jumped back to work, probably that was her way to tackle the grief. While talking to Filmfare recently, the actress revealed that she still hasn't processed her mother's sudden death. She even said that she barely had any memory of the events of the last few months.
Janhvi Kapoor also recalled the moment when her half-brother Arjun Kapoor and his sister Anshula Kapoor came to their aide.
"I think, I was still in that state of shock, to be very honest. I think I am still in shock. None of it has been processed. Like, I have no memory of three or four months. You know at the end of the day, we have the same blood in us. I don't remember anything of those four months but I do remember that one day when we were sitting in Harsh (Anil Kapoor's son) Bhaiya's room and Arjun Bhaiya and Anshula (Arjun Kapoor's sister) Didi came in -- I think that was the one day when I felt like, 'Ok maybe we might be okay," Janhvi said.
Losing one's parent is an inexplicable loss and no one should ever go through it. We can't fathom Janhvi's state of mind when she first heard the news of her mother's demise. Massive respect to Arjun Kapoor and Anshula Kapoor, who stood by their half-sisters Janhvi and Khushi, despite the fact that they never shared a cordial relationship before.