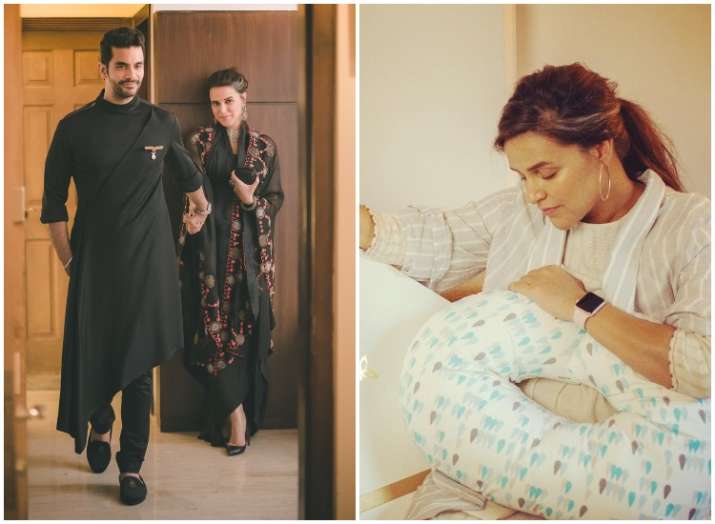 Bollywood couple Neha Dhupia and Angad Bedi became proud parents to a baby girl on Sunday, latest reports suggest. Neha delivered the baby at Women's Hospital, Mumbai, around 11 am, reports added.According to Dhupia's publicist, the actor was admitted to Women's Hospital in suburban Khar where she delivered the baby around 11 AM. Both the mother and daughter are in good health, the publicist added. 
The couple married in a hush-hush wedding ceremony at a New Delhi Gurudwara in May, a few months after which they announced the pregnancy with adorable posts on social media in August.
Recently, Angad confirmed on Neha's talk show that they had to plan a sudden wedding because of the baby. He said, "Considering that you didn't want to break the news that you were expecting, so we had to tell them that we need to get married and we love each other. I was extremely nervous because that was the judgement day, technically. To break the news to your parents, I really had cold feet as clearly it was not going to come from you (Neha). Everything had to come from me. I had to really man up and speak. I just had to blurt it out and see the reaction." 
In a recent interview with Spotboye, Neha Dhupia was asked the exact date when her baby will enter the world, to which the actress replied, "In a few weeks, in many weeks actually. Like they say, it can be anytime. We don't have an exact date, these things never have an exact date.
When asked if she wants a boy or a girl, Neha Dhupia revealed, "I just want a healthy baby and Angad always says he wants gold medallists. We both had undying wish of becoming athletes and sports people before joining the movies. Every time he's asked what he wants, he says, both of us have this undying wish that our child to go and represent India in the Olympics and bring back gold."