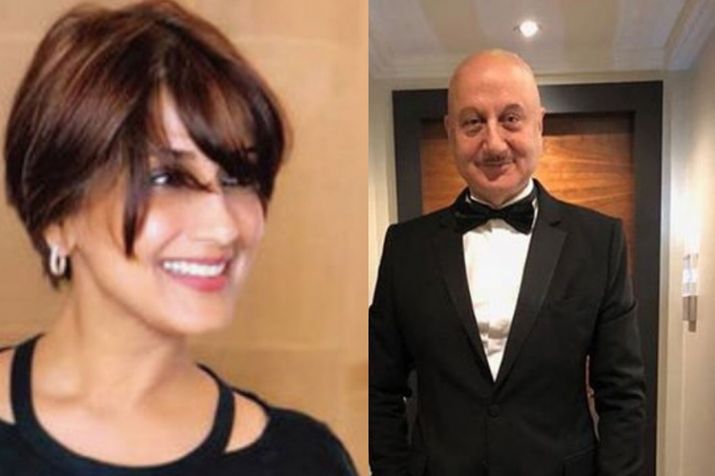 As Bollywood actress Sonali Bendre Behl is undergoing metastatic cancer treatment in New York, where Anupam Kher is shooting for his new show "New Amsterdam", the veteran actor says he often tries to talk to her, meet her and create a positive vibe around her.
The two actors have featured in movies like "Keemat" and "Hamara Dil Aapke Paas Hai".
"I spoke to Sonali two days ago and she is getting her treatment done. As she knows that I am also in New York for four-five months, we both talk about who will be able to return back home first. I always tell her, 'I don't know about me, but I really want you to go back home'," Anupam told IANS over phone from New York.
He is stumped by how brave the "Sarfarosh" actress is.
"Sonali is a courageous and brave person. By brave, I do not mean strong in terms of physical strength. How you deal with life in difficult situation determines your true strength and the way Sonali is fighting is highly applaudable.
"I pray to God every morning to give Sonali immense strength. And I always try my best to meet her and be in touch with her because I know when somebody is not well, at that time person feels good to be surrounded with loved ones. So, I make sure I talk to her and create positive vibes around her always."
Sonali has remained positive in her outlook as she battles the serious ailment, with support from her family and friends.
Recently, Sonali Bendre was missing the Ganesh Chaturthi celebrations back home in Mumbai. The actress is fighting the life-threatening disease with a positive attitude and a new perspective towards life in a different country but special occasions like Ganesh Chaturthi makes her miss home.
The actress took to her social media to post pictures of her husband Goldie Behl and son Ranveer Behl offering prayers to Lord Ganesha. She tweeted, "#GaneshChaturthi has always been very very close to my heart. Missing the celebrations back home, but still feeling blessed. Have a happy one, filled with blessings, love and joy!"
(With IANS Inputs)