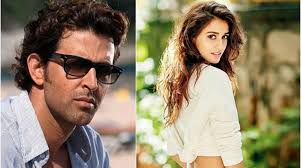 Bollywood actor Hrithik Roshan has slammed media reports for claiming that Disha Patani walked out of a film because of him. The reports claimed that the Baaghi 2 actress apparently opted out of a project, which has Hrithik and her rumoured boyfriend Tiger Shroff in lead roles. The reports also stated that Disha was apparently not comfortable with Hrithik who tried flirting with her and even asked her out on a date. 
Taking to his Twitter, Hrithik Roshan thrashed a website for a ridiculous article about him flirting with Disha Patani.
'भास्कर bhaisaab? कहाँ हो? हाल चाल सब? सब ठीक? देखिए, आपकी दुकान ki प्रगति के लिए मेरी तरफ़ से यह ट्वीट. Next time सीधे बोल देना की help चाहिए। pic.twitter.com/f92izpXh1v

— Hrithik Roshan (@iHrithik) August 28, 2018
In another tweet, the actor called a report 'garbage'. He has been involved with several public spats with actor Kangana Ranaut, with whom he has traded lawsuits because of claims made by each party with regard to their alleged romance.
मेरे प्यारे मित्र 'पत्रिका जी", कसरत करते हो? थोड़ा gym जाओ। mind से सारा कचरा निकल जाएगा! ख़ासकर बीस donkey किक्स, बीस monkey रोल & 2 dog jumps आप के लिए सही रहेगा। ज़रूर कीजिएगा। गुड luck. गुड day. And लव you टू :) pic.twitter.com/ikuNWmie21

— Hrithik Roshan (@iHrithik) August 28, 2018
There were reports floating in that Disha Patani was being considered for Tiger Shroff and Hrithik Roshan's next with Yash Raj Films. Buzz was that the makers were quite keen on casting her, but the actress rejected the film due to reasons best known to her. 
There were strong whispers that she was not comfortable with Hrithik, who apparently tried flirting with her and that's why she walked out of the film. However, now, these reports have turned out to be 'baseless rumours'. A source close to the actress has revealed the truth about all these reports floating in the media.
A source close to Disha Patani strongly denied these irresponsible reportings and shared that she was not even offered the film by YRF in the first place to walk out of it. They were in fact laughing off such childish rumours surrounding the actress.
On the work front, Hrithik Roshan is all set to star in Super 30. The film will clash with Kangana Ranaut's Manikarnika: The Queen of Jhansi at the box-office in January 25.