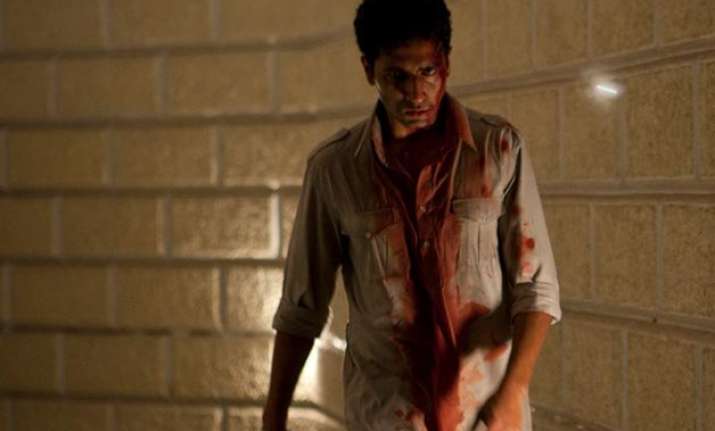 Rating: **1/2 ( 2.5/5)
Film: Zubaan
Cast: Vicky Kaushal, Manish Chaudhari, Sarah-Jane Dais
Director: Mozez Singh
Directed by Mozez Singh, Zubaan is a musical drama that tells the story of a young lad's journey of self-discovery and about following your true passion.
The film traces the life of Dilsher , a native of Punjab's Gurdaspur who comes to Delhi to make it big in life and idolises the ruthless business tycoon (so we're told) Gurcharan Sikand (Manish Chaudhari) . Dilsher, with his manipulating ways, gets closer to Gurcharan and becomes a thorn in the eyes of latter's son. Dilsher struts when he speaks but doesn't stumble when he sings.  Amira (Sarah-Jane Dias), a beautiful singer, who invites him to to a musical/artistic desert retreat make him realise that it's not business but music where his true calling lies.
Singh's cinematic sense is vivid and fresh as the effort he has put in every frame would make you sit back and notice it.
Zubaan starts on a high note with an opportunist protagonist hellbent on succeeding in life but as it proceeds the film loses vigour.
Like, Dilsher even the film gets confused about it's true desire, as it becomes unclear which trajectory does it wants to take us.
Film's lack of pace is also one of its problem especially the second half which is achingly slow. As you eagerly wait for the character to transform, even the  two hour's  time seem longer and then it abruptly comes to an end.
Ashu Pathak's music is good but inconsistent. Also the musical interludes feel more like randomly inserted music videos than organic moments that grow from the narrative.
Swapnil  Sonawane beautiful Cinematography deserves an honourable mention as he has experimented a lot with lighting and camera angles and his sweeping images, especially the desert scene, breathe some life into the film.
Admirable as it is to give us a protagonist who is flawed, as he manipulates his way to become successful but his sudden realisation that music is his true art needed better explanation than what is being depicted in the film. Khyatee Kanchan's production design too adds to the film.
Zubaan strength lies in its understated tone as the film never sinks into melodrama..
Kaushal's chemistry with Sarah lacks spark and it seems she is forced into the story to help the protagonist know his latent potential.
Vicky Kaushal gives yet another terrific performance as a morally corrupt boy who later discovers his true calling and sets in to the path of self discovery.  Kaushal has effortlessly manoeuvred to the Punjabi accent, his natural stammer and his desperation to prove himself. However, Manish Chaudhari is a show stealer, he is frugal with the words but lavish with his expressions.
Zubaan may not be a very gripping experience as it demands patience  but the film is definitely rewarding in parts.