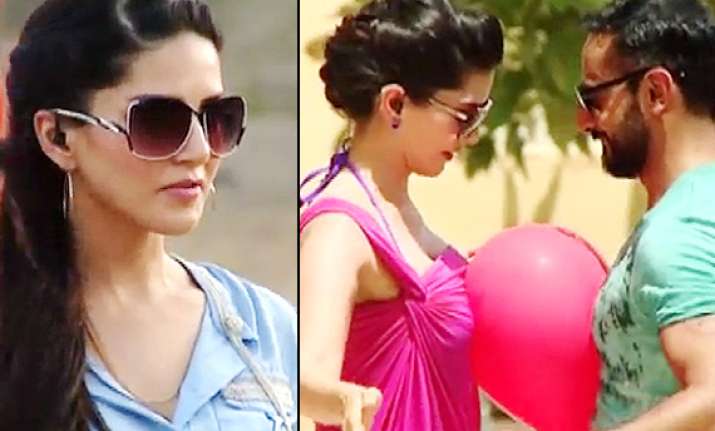 New Delhi: Splitsvilla 7 got more entertaining as it entered its episode 5 witnessing a set of more indulging tasks.
The connections brewing amidst contestants became stronger as our very own Sunny Leone strictly kept her oomph alive on the show.
Looking rather sporty this time, Sunny chose to don a pair of white hot pants teamed up with a pale blue sheer top as she arrived in to host the first task. Despite standing in bare sunlight, the lady made sure to cheer the contestants up.
The first task kick started among the male competitors on the show being the first 'banish' task. The one who got banished by the queen had to leave the show temporarily. And owing to this, the funky guy on the show, Rishabh was made to leave Splitsvilla 7 for the time being.
Next was the task that saw ultimate fun and increasing closeness.

Sunny this time donning an exquisite purple bikini covered her desired physique with a pink piece of long sarong the entire time. Despite covering herself from head-to-toe, the lady successfully gave an ample view of her toned legs and flaunted her voluptuous frame even in that harsh hot.

Splitsvilla 7 episode 5 turned on to became more compelling when the diva demonstrated the second task of the episode to all the contestants present.
The lady along with co-host, Nikhil Chinapa showed some moves and displayed how to perform the task. She placed a balloon between her and Nikhil and walked towards the bucket where the balloon had to be dropped.
Though her glamour seized away all the glaze from the task, contestants seemed to have very well understood what had to be done.
Towards the end, as three girls from the villa – Hina, Jacqueline, Rashi made their ways to the dumping zone, the episode made a suspense over Ashwini struggling to pick one between Scarlett (who could be seen doting on him) and Sanjana (his love interest) to be sent to the dumping zone.
Watch out for more fun!