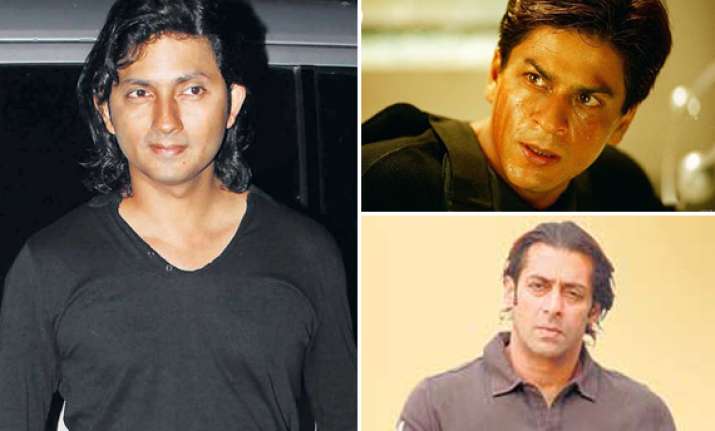 Mumbai, Jan 31: Farah Khan's husband Shirish Kunder on Monday challenged Bollywood superstar Shah rukh Khan to a duel.
 
Shirish thundered, "Next time, I will challenge him (SRK) to come in front of me to fight.
 
"I will give it right back to him. Someone please ask him to stop behaving like an old, spineless, frustrated man.
 
"He kept telling me go back to your friend and tell him main uski ***** marunga If he has some problem with that friend of mine, why doesn't he have the guts to confront him?"

And this is what Shirish said about what happened on late Sunday night: "I was totally unprepared for this kind of an attack. If I was standing in some area where I would expect some goondaism, I would have been better prepared.

"But this was a classy party. Who would expect someone to jump on you from behind?"
 
"I walked out of the party after that. He is taking out his personal frustrations on anyone he comes across."
 
Shirish said that he didn't even realise when SRK walked in. Recollecting being dragged by the hair and pushed on to the couch, he said, "Shah Rukh punched and jumped on me. And he had three bodyguards with him. I don't know what got him. I was numb with shock so I couldn't react. He kept screaming at me, 'What do you think of yourself? I'll see to it that you're out of this industry'."

After Karan Johar's press meet on Friday and Hrithik Roshan's party on Saturday, a bash was hosted for Sanjay Dutt at a popular Juhu nightspot to celebrate his success in the recently released Agneepath.

Sanjay,  who's earned rave reviews for his portrayal of the menacing Kancha Cheena in the Karan Malhotra directorial, surely didn't anticipate that it would turn into a battlefield between SRK and Shirish, both of whom were invited.
 
An industry source said: "It was past 3.30 am and Shirish was talking to someone about films, particularly RA.One when SRK sauntered in and overheard him.

"Not pleased to hear anything negative about his movies, Shah Rukh confronted Shirish and started hitting him. At the same time, he also said something about Salman being his (Kunder's) friend and that he'd teach him (Salman) a lesson too," recalls the source.

Apparently, Baba Dewan, who is Sanjay and Salman's good friend didn't take this comment kindly and tried to reason with SRK.
 
"Seeing Baba Dewan intervene, Sanju too rushed towards them to break up the fight," says the source, adding that soon afterwards, at about 4 am, Shirish walked out, covering his face, which had begun to swell as he had been badly hit.
 
Incidentally, neither Shirish's wife Farah nor SRK's wife Gauri attended this party.
 
"A while after Shirish left, the party ended with Sanjay, SRK, Baba Dewan and their friends too leaving the venue," said the source.
 
Another senior producer pointed that both SRK and Shirish were to be blamed for it. "Shirish had taken digs at RA.One on Twitter, which haven't gone down well with the actor-producer. As for SRK, he has taken potshots at other industry people.

"So when someone aims jibes at him, he should be just as sporting as he expects others to be," he said not before concluding that this will further spoil things not only between SRK and Farah, but also between SRK and Salman.
 
Now it remains to be seen how Salman reacts to this fight and the threat directed at him through Shirish.

 About a year ago, there were reports about Shirish Kunder ignoring Shah Rukh Khan at a party. But apparently, the director had not even spotted the actor-producer.
 
Also, at a recent party for Riteish Deshmukh and Genelia D'Souza, SRK got into an argument with Shirish. Fortunately for everyone present, there was no fight.