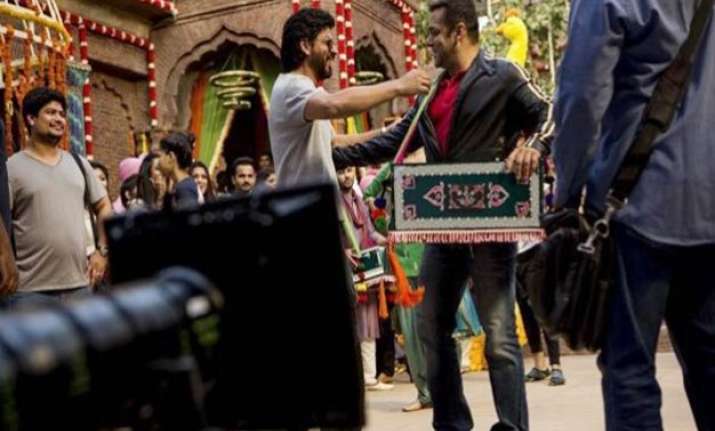 New Delhi: Any news related to the two superstars Shah Rukh Khan and Salman Khan becomes the favourite one of tabloids. Though, their brotherly encounters might just be very casual but every time they share a hug, fans go screaming.
As of now, it is really difficult to predict that when the two will be sharing the silver screen together, but they have teased their ardent fans with yet another gesture. King Khan paid an unplanned visit to Dabangg Khan on 'Sultan's' sets.
In the picture which was bound to go viral, we can see Salman carrying a harmonium, wearing a jacket and red t-shirt inside. He was shooting for a song 'Baby ko bass pasand hai' for 'Sultan' along with Anushka Sharma.
In the picture where SRK is seen going forward to hug Salman, we can also spot a camera facing him.
From all we know, teaser of Salman's 'Sultan' will be attached to Shah Rukh Khan's 'Fan'. But, seeing the camera pointing towards King Khan in the middle of the shot, we wonder if he will be doing a cameo in the movie.
If he does, wouldn't it be just epic?  After all fro how long will the fans re-watch the most talked about episode of Bigg Boss 9 in which SRK came, or Karan Arjun? They do need something new. That too soon enough!