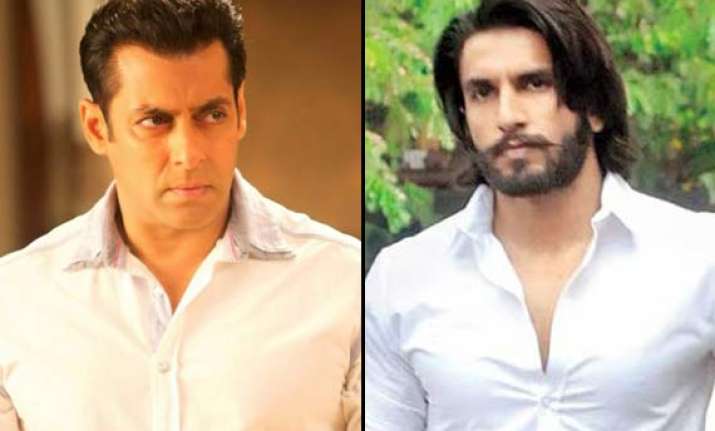 New Delhi: Friendship and enmity are two things superstar Salman Khan is known for maintaining whole heartedly. Turn the pages of his life and you will come to know about it. And now it seems Ranveer Singh has added his name in those pages with his latest stint.

Allow us to narrate you the entire tale. It all began with their mutual director Sanjay Leela Bhansali, known to be one genius filmmakers for showcasing his flicks more colorfully than any other filmmaker. But his mode of working and giving out the impeccable results hasn't gone down well with his workers and associates.

He is one of those, who don't know how to get social. What matters him most is the result for which he doesn't shy being blatant and temperamental. But may be this has irked some of his B'town colleagues and first among them is filmmaker Karan Johar.

The Dharma Production honcho in a chat show said that earlier he used to love him (SLB) but over a period of time Bhansali's expectation for Karan was something that he couldn't match up to. The producer-director finally declared that he doesn't want to deal with Sanjay Leela Bhansali anymore.

SLB's 'Hum Dil De Chuke Sanam' actor Salman Khan too gave Bhansali a piece of advice over how to work. He gave an example of Sooraj Barjatya's calm and composed mode of working and in an interview to a leading daily he advised him to direct movies like Barjatya instead of yelling and throwing things and other stuff unnecessarily.

But Ranveer who is going to work once again with Bhansali in 'Bajirao Mastani' defended the director addressing him as a creative personality and that such artist are temperamental since they work from a place of emotion. The actor is unable to understand that why people single SLB out.

Now since it was just Karan and Sanjay, the war has gone bigger with Salman and Ranveer coming into the frame.

Initially, it was Ranveer and Deepika zeroed in for much delayed Karan Johar's 'Shuddhi' but as per media reports Sanjay intervened and convinced the duo to drop that flick and join him over in his next production again.

Also the director chose the 25th December 2015, the same date of release which was declared by Karan for 'Shuddhi'.

But now since Salman Khan is involved in Shuddhi and as far as we all know him, he wouldn't stand any such thing that attacks his or his team's dignity.

Ranveer Singh has taken a first step in this war but we would recommend him to better be careful before taking another step. Because, Salman never forgives and never forgets!