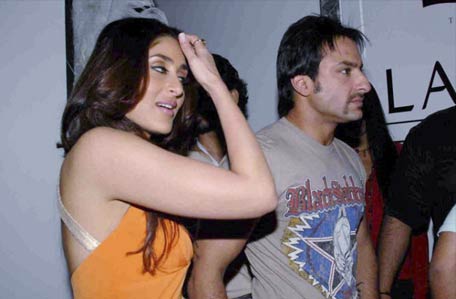 Bollywood couple Saif Ali Khan and Kareena Kapoor have refused to perform at a gutkha baron's daughter's wedding where everyone from Salman Khan to Shah Rukh Khan will be dancing, says a media report.
The duo has decided as a rule to stop performing at weddings, no matter what fee is offered, says the report
Most of the Bollywood stars including Shah Rukh Khan, Salman Khan and
Katrina Kaif
have been signed up to perform at a wedding in Delhi on November 18. But not Saif, Kareena.
Says a source, "The couple was offered to perform at the wedding between two gutkha families and were offered almost Rs 4 crore but they turned it down. They had taken a decision over a year ago that no matter what the price offered, they would not dance at wedding functions of strangers. That is strictly reserved for family and friends."
The reason for the star couple's non-performances at weddings is parental disapproval. Mainly his. The chote nawab comes from a royal family, and it is belittling for them to perform at weddings for cash.
Even Kareena's parents weren't exactly thrilled with the idea of them dancing at private functions. While shows and events like award functions are fine, they draw the line at weddings.
Saifeena were shocked to hear that they were part of the 'gutkha wedding' in the media and decided to clarify their stand."
While Saif and Kareena took the decision not to perform at weddings a year ago, Ajay Devgn and his wife
Kajol
have never performed at weddings.
It's a stand they had taken right in the beginning of their careers and till now, haven't changed their minds though they have been offered big money to perform together.
In fact, Devgn has often expressed his displeasure of stars performing at shows, events and weddings. Sunil Shetty also doesn't perform at weddings.
Says Kareena, "As a rule, Saif and I have stopped performing at weddings. We are not performing at this Delhi wedding. We took this decision together a long time back and have decided to stand by it even if it means losing huge money."
Saif adds, "To each their own. It's a question of comfort and individual choice and we both are personally not comfortable performing at weddings. The same goes for the decisions I make on my films and ads. I do them according to my comfort level. Having said that, I would like to add that we fully respect everyone else's decision for doing whatever they want."
Almost all B-Town stars from Zayed Khan, Jacqueline Fernandes, Neil Nitin Mukesh, Zayed Khan, Dia Mirza, Fardeen Khan, Lara Dutta,
Urmila Matondkar
and
Sushmita Sen
have been invited to attend or perform.
Apparently, more than Rs 25 crore is being spent on having Bollywood at the week long wedding celebrations in Delhi.
While Shah Rukh Khan is reportedly being paid Rs 4 crores, Salman Khan is being paid Rs 2 crore and Katrina Kaif, Rs 1 crore. Kat is expected to perform at the sangeet and mehndi celebrations on Wednesday while Salman will perform at the wedding on Thursday. Shah Rukh is expected to attend the reception on November 19.
The appearances of most of the B-Town stars at the gutkha wedding have been organised by producer Vashu Bhagnani who is said to be a close friend of the father of the bride.
Most star remunerations are given in full in cash before the event takes place 50 per cent when the deal takes place and the rest a couple of days before the event.