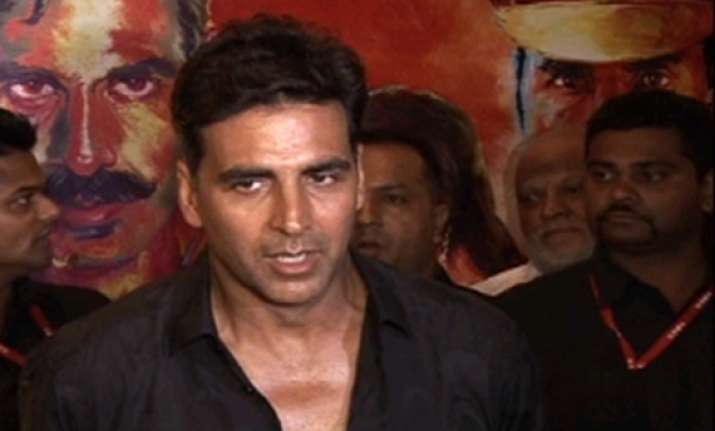 Mumbai, June 16: At a success party held last night for his film Rowdy Rathore, actor Akshay Kumar was asked about Vidhu Vinod Chopra's remark that "rubbish" films were earning Rs 100 crore in Bollywood. 
Akshay Kumar replied: "This could be his opinion, but I will definitely go and watch his film Ferrari Ki Sawari. Our job in Bollywood is to entertain viewers rather than earning money." 
Rowdy Rathore's box office earnings have already crossed the Rs 100-crore mark, and director Prabhu Deva and actor Sonakshi Sinha appeared jubilant at the film's success party.  
Prabhu Deva's earlier film was Wanted. Rowdy Rathore is the second film he has directed in Bollywood. He refused to respond to Vidhu Vinod Chopra's remark, but thanked the viewers for watching his film.  
Sonakshi Sinha, with a second hit after Dabangg under her belt, told reporters that "these are only two hits. I am really happy. Abhi toh picture baaki hai (just wait for more)" 
Producer Sanjay Leela Bhansali, who has tasted a hit after a long break, also appeared jubilant. Bhansali said, he was planning a sequel to Rowdy Rathore, apart from making remakes of hits from the South.  
Asked about Vidhu Vinod Chopra's remark, Bhansali said, this could be his personal opinion.