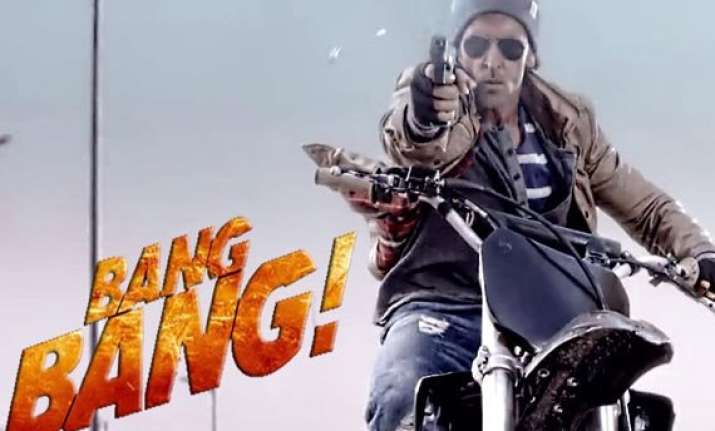 New Delhi: Superstar Hrithik Roshan may call that box office collection just a number for him but the 'Bang Bang' figures are taking on numerous records which he would have taken him on cloud nine. Already the movie has become the second highest grosser at overseas taking over Aamir Khan's last year blockbuster 'Dhoom 3' and now the Sidharth Anand directorial is eyeing on the top slot.
The action-comedy on its 12th day i.e., on Monday made a decent collection of Rs 3 cr to take the total to Rs 157.11 cr nett in India.
With no big release this week, the movie is expected to add moolah in coming days but will it enter the Rs 200 cr club is still a big question trade pundits are thinking of and are uncertain to.
The movie released on 2nd October with as many number of screens that any Bollywood movie had earlier. But despite those massive numbers, the movie merely managed to become the year's second biggest opener with Rs 27.54 cr (after Ajay Devgn's Singham Returns- Rs 32.09 cr), while talking over breaking any big records which are stick on top in the list would be funny.
Moving over that in the coming days, it was expected that Bang Bang will be on a record breaking spree and will give complex to the top four flicks like Dhoom 3, his very own Krrish 3, Chennai Express and Kick but the least it could surpass were the other under-Rs 200 grossers like Yeh Jawaani Hain Deewani, Dabangg series, Ek Tha Tiger and blockbuster 3 Idiots (Rs 200 club member) which released five years back among others.
However, at overseas, the movie is setting few benchmarks beating the above mentioned dramas but with 850 screens (the maximum number for any Hindi movie at overseas after Salman's Kick with 700 screens) what else we should expect.
Much blame was given to the other release Haider starring Shahid Kapoor but it mostly attracted niche audience. And what is the point of blame to this Vishal Bhardwaj's dark movie which was expected to be flooded by Bang Bang prior its release?
Bang Bang was to capitalize over the extended five days weekend which rarely a Bollywood movie gets. What other thing one has to understand is that the audience is the king and it would bring down any flick which doesn't entertain them. Salman Khan's earlier Rs 100 cr flop 'Jai Ho' is major prove.
Bang Bang has created massive buzz for its edge-of-the-seat action stunts was too turned down by film critics all over. Salman's Kick mostly received mixed reviews and that was enough for a Salman Khan flick to keep sailing at box office.
The Sidharth Anand directorial may add more in volumes (which doesn't looks like now) and hit the double ton but that would be a fade victory.