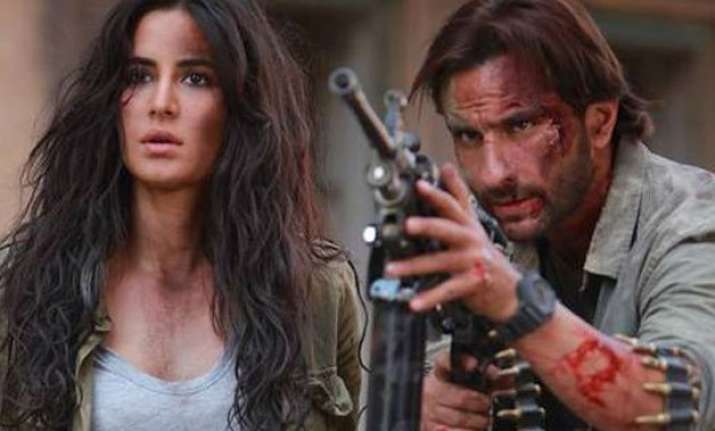 New Delhi: After the success of Kabir Khan's last movie, 'Bajrangi Bhaijaan', the expectations from his thriller 'Phantom' were on the same lines.
Alas, 'Phantom' could not match up to the standards set by 'Bajrangi Bhaijaan.'
'Phantom' opened to theatres yesterday and has minted close to Rs 8. 46 crores in the domestic market.
Trade analyst Taran Adarsh shared this tweet that gave insights about the collection: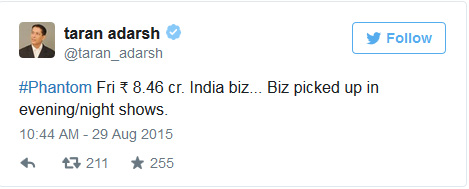 He also tweeted about the UAE collections of the movie which aren't that great either.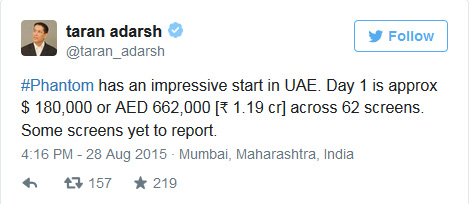 Set against the backdrop of the 26/11 attacks on Mumbai, 'Phantom' is based on novelist Hussain Zaidi's book 'Mumbai Avengers.' The movie stars Saif Ali Khan and Katrina Kaif in the lead roles.
Before its release the movie invited controversies when a ban on it was demanded by Jama'at-ud-Da'wah chief and 26/11 mastermind, Hafiz Saeed. His demand was granted by a Pakistani court.
Recently, the movie got involved in yet another controversy when the non-governmental organisation Médecins Sans Frontières popularly known as Doctors Without Borders said they would drag the filmmakers to court because of their wrong portrayal of the organisation.  The movie shows a MSF worker, played by actress Katrina Kaif, aiding an Indian soldier kill Pakistani terrorists. This is a violation of the no-gun rule of MSF.