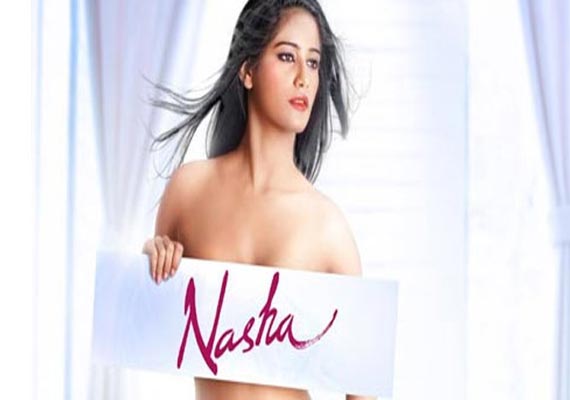 Ratings- *1/2; Stars- Poonam Pandey, Shivam; Director- Amit saxena
Teenage sex could be harmful and, if not dealt properly, may lead to bad consequences. Unfortunately, the Jism fame director Amit Saxena doesn't take this issue with responsibility and fails to entice us to stay hooked on our seats.
The movie kicks off with a soon to turn 18-year-old boy (Shivam) who is a happy go lucky guy with his girlfriend and a group of friends in his college (with handful of students). Enters Anita (Poonam Pandey), a drama-cum-seductress tutor. The entire college is in buzz with her moves. But who takes her seriously is this boy who falls in love this teacher. He follows her like a hidden camera and desires her to be in his. Will this teenage-adult relationship be taken further? That's how the story of Nasha moves forward.
Director Amit Saxena who received rave admiration for the 2003 movie Jism, declines hard with Nasha. The story doesn't have any base which could have been treated with soft hands and seems to have been ruined unexpectedly.
Nasha is also not a full–bodied sex drama that Poonam's presence in the cast might raise visions of generous squirts of a skin show. First half is so restless and low is execution that you would even love to admire a B-grade movie while the screenplay is draggy and repetitive for already too long movie.
When it comes to sexual chemistry and moments (which aren't much in the flick) between this hot seductress and the teenage guy, it seems somewhat laboured at times.
The rampaging sex appeal of Poonam Pandey, who struts around with her cleavage revealing dresses in her cottage and college campus dishing out generous doses of the seduction spirit, doesn't anyhow work.
It was even amusing to see that the teacher just have proposing and seductive lessons to teach her students.
There have been movies in the past, both in Bollywood and Hollywood, which have dealt it with this delicate issue quiet intelligently.
If the director had tried to take the minimal inspiration from those flicks, Nasha could have been a much better movie which in the end takes you nowhere.
Among the cast Poonam Pandey has everything to show off in the flick but few acting lessons would make her presence worthy in Bollywood. She tries too hard to act but the moment she utters her dialogues her performance diminishes.
Shivam is decent is his act. He shows the innocence, eagerness and curiosity to witness his crush quiet sensibly.
Music by Siddharth and Sangeet is fine but the background score is repetitive. Editing is of low quality.
I'll go with one and a half stars for Nasha. It's neither a sex drama nor a love story. Infact you would guess after leaving your seats that what was the final moral of the story. Yes one thing you would learn is the art of choosing ice cubes. Awful!