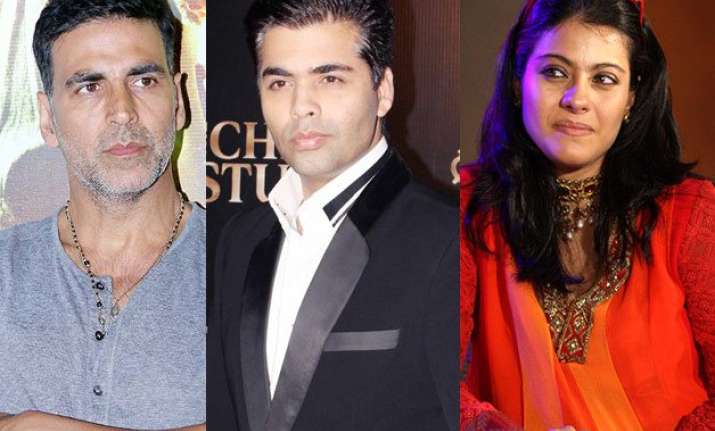 New Delhi: The row over 'rising intolerance' in India has seen its fair share of controversies in the past year. Prominent and popular film personalities such as Aamir Khan and Shah Rukh Khan have also ended up facing flak after they suggested that India was an intolerant nation.
Filmmaker Karan Johar appears to have been the latest calamity for having shot his mouth off on the issue of intolerance. He has been in the dock for 'vulgarity' and offending 'cultural sentiments' for his no holds barred outburst at the AIB Roast. This tyime though, he has latched on to something he may find difficult to digest.
Karan Johar created a buzz after he 'mocked' the Indian democracy and freedom of expression as the biggest jokes and that speaking about one's personal life could land one in jail.
Kjo's statements during the inaugural day of the Japiur Literature Festival have clearly not gone down well with several quarters. However, 'Airlift' actor Akshay Kumar had some sane advice for the filmmaker.
"Our country is very much tolerant and gives freedom of speech and expression to everyone. However, it is our responsibility to think before we speak, as many times it happens that our words get misinterpreted. One needs to recheck their facts before speaking anything infront of the media. I don't think that India doesn't give us the freedom of speech and expression. I am proud of my nation," Akshay told a news channel.
Actress Kajol, known to be a friend to the filmmaker, also downplayed the intolerance debate at the third day of the JLF. "Our industry will always keep reflecting on what is happening in our society. It will keep on going and everyone is welcome. There are no dividing lines, no caste, no creed and no intolerance in Bollywood," she said.
The actress also had a word of advice for public figures. "These days people seem to have become oversensitive. As public personalities, it is our duty to speak well and correctly. I have always said my 'Mann ki baat' and it is no different now," she said.
There has been talk for sometime of a division in the industry over the issue of intolerance. While insiders may not agree to admit it in the open, KJo's remarks might just have re-ignited the controversy. At the moment, it seems unlikely that the producer-director will have too many friends to fend for him.