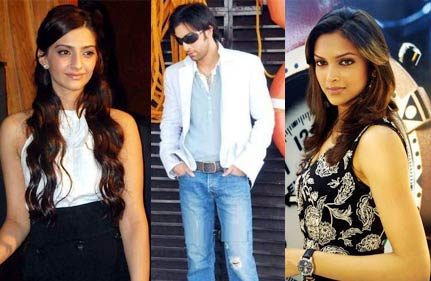 Mumbai: 'Koffee With Karan'in its third season has ruffled a few feathers more than necessary.  
The third episode that featured
Sonam Kapoor
and
Deepika Padukone
has attracted a lot of attention, not only due to a lot of tongue in cheek remarks and revelations, but also because the Kapoor clan did not take too kindly to it, says a media report.  
It so happened that Deepika and Sonam, who had once been involved with
Ranbir Kapoor
, took a lot of pot shots at him through the show.  
Sonam, who has been Ranbir's childhood friend and also debuted opposite him in Sanjay Leela Bansali's Saawariya, said she does not find him sexy, even though she caught a peak of him in the buff.  
Claiming he needs a stylist, Sonam also commented that he is a great friend but cannot be a good boyfriend. She was surprised how Deepika had remained in a two year long relationship with him.  
Deepika also went all the way to take Ranbir's case, remarking that he should endorse a condom brand and that he needed work on his boyfriend skills. She also believed that Ranbir wasn't sexy and was overall glad that their relationship did not work out.  
The constant jibes and jokes passed on Ranbir did not go down too well with Ranbir's parents, Rishi Kapoor and Neetu Singh, who were hurt. Though Neetu Singh was on a holiday abroad, when she heard about the comments through a well wisher, she decided to talk to Karan about it.  
Meanwhile, Rishi was fuming and thought that Karan had instigated the girls into giving such comments to increase the TRPs of the show. He claimed that the while the Kapoors had gone on his show is out of pure love and respect, he had backstabbed them by coming out with an episode in such light. Rishi candidly said that if this is the way KJo plans to behave, all ties will be severed between the Kapoors and KJo.  
As far as the girls go, Rishi Kapoor felt that their comments were a case of sour grapes. His advice to them is to stop giggling so much and poking fun at people and instead concentrate on their careers.  
Karan on the other side claims that he isn't aware if anyone is upset, at least Ranbir isn't as he understands the vibe of the show and all is cool.