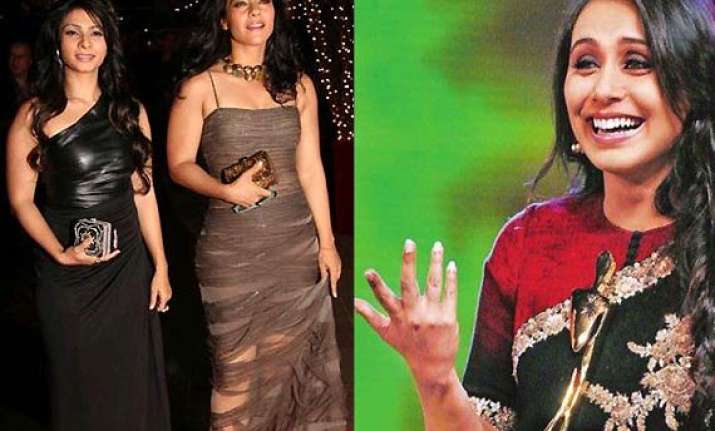 Rani Mukerji-Aditya Chopra chose to have their wedding ceremony in Italy, a secret from the world but hiding away the news from their cousins was something the entire family didn't seem to go down well with.
While media reports were barging with news of the couple tying a secret martial knot in Italy, Mukerji family was upset over being left out from the information let along the wedding celebrations.
It comes out that the couple deliberately kept away the news from Rani's cousin Kajol, Tanisha and Ayaan. Seeing Aditya Chopra's choice of keeping his life private, new wife Rani Mukerji too happily obliged in keep down the news and chose not to inform her cousins whom she had always been close with, Kajol, Tanisha, & Ayaan.
A birdie informs us that Rani and Aditya, decided to hide away their plans from one of Rani's loud mouth cousins and had to drop out other cousins too.
Rani knew that once she broke the news to her closest cousin Kajol, it would eventually be out the next second as she is capable of spilling the beans out in excitement.
Just few weeks before the wedding announcement, Kajol had appeared on bestie Karan Johar's talk show 'Koffe with Karan' and talked about how she is herself desperately waiting to know when would Rani plans to marry and upon being asked to question one thing from Aditya Chopra, she replied "The same thing, I would ask Adi to know about his wedding plans."
On 21st April, Rani Mukerji & Aditya Chopra secretly tied the knot in Italy which turned out to be a private function in a lavish villa at countryside, among people who were present to bless the couple were Rani's father, mother, brother & sister-in-law, and from Aditya Chopra's side were, mother Pam Chopra, brother Uday Chopra, Nargis Fakhri and the couple's mutual friend Karan Johar.
Ever since announcing her wedding, Rani has promised to throw a grand reception at YRF studio, once the couple lands in the city.
According to couple's close source, Rani Mukerji & Aditya Chopra had a quickie wedding after Rani's father suffered a critical heart ailment.