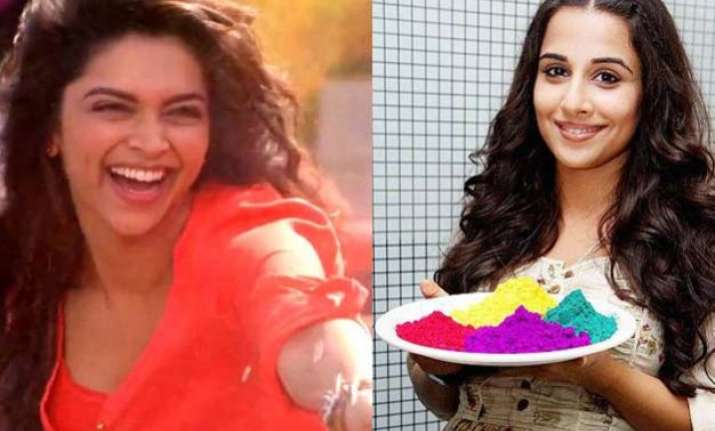 The festival of colours is here and B-Town is all set to celebrate it in style.  While some stars are busy shooting for their on-floor projects, others plan to enjoy the festival with close family and friends.
Vidhya Balan, now Mrs Kapur, revives her Holi memories saying "My fondest memory is that of my father filling balloons with water early in the morning. We'd go upto the terrace and throw balloons at each other."
The oooh lala girl will celebrate Holi with her friends, as she says "I'm hoping to play holi with friends this year."
On the other hand, Deepika Padukone, who is currently shooting for two movies 'Bajirao Mastani' and Tamasha, will miss the festivity this year. Though, the actress will celebrate it with her co-actors on the sets.
Deepika says: "I am shooting for Tamasha and Bajirao so we may play Holi on the sets. This year will be a working Holi for me."
Talking more on Holi, Deepika said, Balam Pichkari and Lahu Muh Lag Gaya are her favorite songs and she loves eating 'tangy and spicy' chaat on the day of colours.
Moreover, the sultry actress also revealed her secrets for hair and skin care on Holi, saying: "I usually massage my hair with coconut based hair oil. It not only protects my hair from the harsh color and chemicals but also provides nourishment. Try and cover your hair with a scarf or bandana so the chances of color entering your scalp are minimal."
Unlike Deepika, the Heropanti actress Kriti Sanon will have a good Holi break this year, as she plans to celebrate the festival with her family.
"I used to celebrate Holi every year with my sister Nupur and all our friends in our colony's central park, she said while remembering her childhood Holi memories.
"Once we found a broken bath tub on a terrace and filled it up with color, water and mud and then each person was thrown in turn by turn. We ate pakodas and had thandai and danced on various Holi songs," she added.
We know Holi is the favorite festival of Bollywood fraternity as various stars organize Holi parties at their homes every year. And we are hoping to see the color bash this time around also.