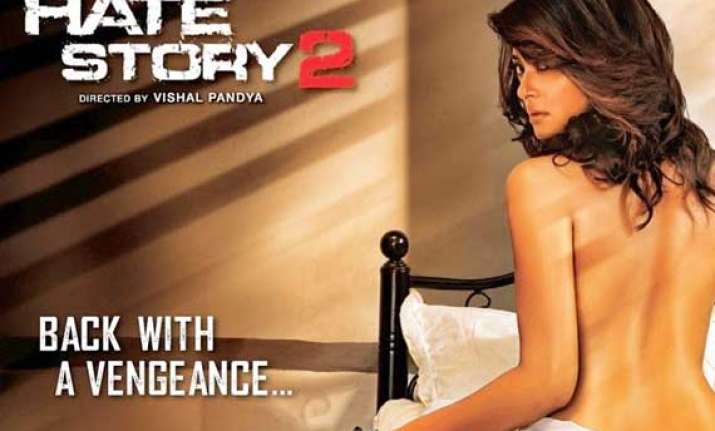 Hate Story 2 has a sense of affection like many of those epic revenge sagas made in our Indian cinema. The problem is that after setting an apt plot, it doesn't do much justice to it.

Ratings-**
Cast- Surveen Chawla, Jay Bhanushali, Sushant Singh
Director- Vishal Pandya
Music Director- Mithoon, Meet Bros Anjjan, Rashid Khan
In a scene the female protagonist Sonika (Surveen Chawla) out of angst over her lover Akshay's (Jay Banushali) murder, assaults one of the killers by inserting a gas cylinder pipe in his mouth. The scene stirs angst against the killer after you know that innocent Jay was slayed mercilessly, but despite that you aren't able to connect with the scene as it departs giving you an empty feeling.
Hate Story 2 has a sense of affection like many of those revenge sagas made in our Indian cinema. The problem here is the usual execution of above scenes, which hardly gives you goose bumps. The weird dialogues (God please save viewers from the 'baba ji ka gyan') and some bad acting make things worse. 
Debutant director Vishal Pandya picks a vindictive idea and attempts to make it as gruesome as he can. After narrating sexual assault and pity assassination in the first half, the flick follows vengeful killing of the murderers in the second half. Sadly, nothing arouses sentiments within you and you don't even sympathise with our wounded female protagonist who is out for revenge.
Sonika and Akshay are photography students who fall in love with each other. This isn't acceptable by a high profile political leader Mandaar (Sushant Singh) as Sonika is his forever mistress. Sushant and his men kill Jay and bury Surveen in the graveyard.
Now here, the hilarious twist or should I say error, in the movie is that Sonika not once but twice comes back from the dead. In an another scene Sonika asks Akshay's spirit to 'wahin wali baate karo, hamari wale baatein' (ahem ahem..) and the scene is cut to the song 'aaj phir tumpe'. One can easily garner the immature logics in the flick, which are beyond our imagination.
The movie is undoubtedly a revenge thriller like its earlier installment but there is nothing thrilling about it.  The narration and the screenplay too come as the biggest flaw in the flick.
The flick also focuses over the dirty politics prevalent all over; however, it doesn't concern us much since it's all predictable. We thank director for not using much explicit scenes and dialogues to sell the flick like its earlier installment.
Surveen Chawla is impressive in her first attempt in the movie. As a wounded lover seeking revenge she is good but in most of the scenes she just saves herself from giving a bad act.
Jay Bhanushali doesn't have a meaty role in the flick and disappoints in those he gets to show his acting prowess. Sometimes, it seems he is trying to imitate the king of romance-Shah Rukh Khan but he falls upon his face in that attempt.
Sushant Singh is the show stealer. As an arrogant politician he sums the performance with a brilliant act minus his 'baba ji kaha karte the gyan'.
Music by Mithoon, Meet Bros Anjjan, Rashid Khan is good. The remake of the old melody 'Aaj phir tumpe' is brilliantly sung by Arijit Singh and Samira Koppikar is our pick from the album.
I'll go with two stars for Hate Story 2. Nothing works in favour of this flick and if you expect to see the sleazy avatar of Surveen apart from the song, disappointment is all you'll get.