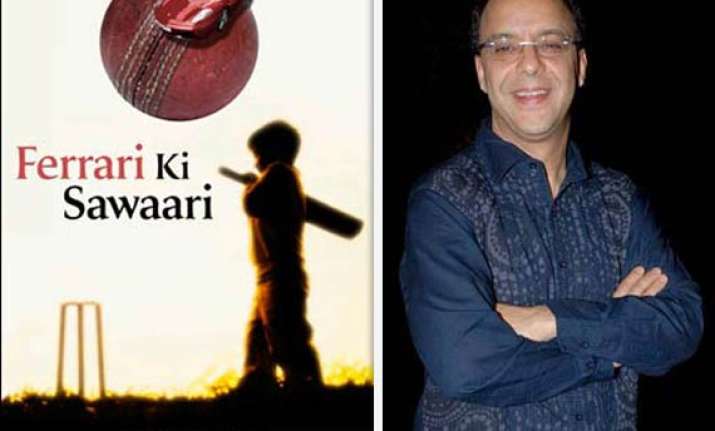 Mumbai, Aug 7: Vidhu Vinod Chopra's Ferrari Ki Sawaari shot their most crucial scene last week, after a wait of two long months. Close sources reveal how they shot their one of the most important scenes in the script - that is the 'Cricket sequence'.

The team, who has finished its first schedule of shooting, had kept one exclusive scene pending for over 60 days especially for the rains as they wanted to shoot it under natural rainfall.

The team filmed this significant cricket sequence at the University Ground, Marine Lines last week amidst heavy downpour, which was a blessing to them as they were waiting for the perfect weather since a very long time.

The cast and the crew of film kept postponing the dates to capture this portion, which forms the pulse of the film. There was a lot of to and fro to match the dates and time of the entire team for this particular scene as the rains were unpredictable.

Director, Rajesh Mapuskar was keen that the scene should be nothing less than perfect and all is done authentically. The film team was very supportive to him and generously managed their dates accordingly.

Finally the wait came to an end last week, where they managed to shoot the two day long cricket sequence in the desired weather with heavy rainfall.

Director Rajesh Mapuskar says, "I have been working under Rajkumar Hirani and Vinod Chopra since a while now and one of the first things that I have learnt is to be true to the script. Earlier also we have shot in the authentic backdrop of Mumbai University, we have also shot live on roads amongst live audience - even when shooting with Sharman Joshi. So it was very important for us to authentically shoot this cricket sequence as it happens to be one of our most important sequences."

More than half of the shooting is done and now the crucial scene is also taken care of. Lead actor Sharman Joshi and director Rajesh Mapuskar are now gearing up to complete the rest of the script.

"Special thanks to Sharman and my team. Sharman, other cast members and the entire crew were extremely supportive of me and made sure that we film this sequence as we had imagined according to the script. 60% of the filming is over and we are very much running on schedule. Our next schedule of shoot will begin post September after the rains," adds Rajesh Mapuskar.