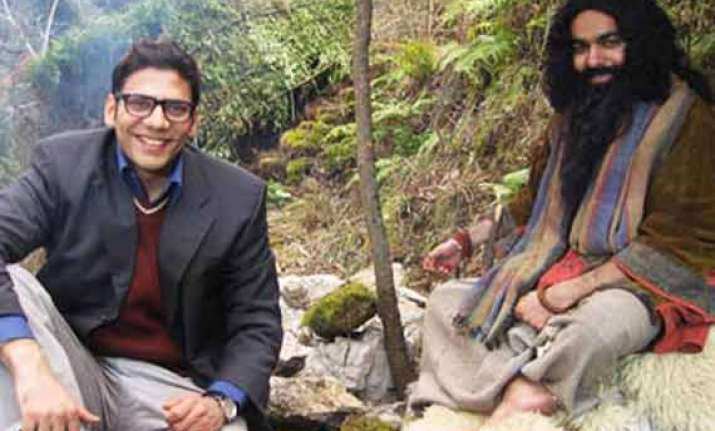 Mussoorie: "Ek Tha Rusty II", the second season of popular TV series "Ek Tha Rusty" is all set to return to the television screen, this time with two female actors from Sikkim.
The shoot of "Ek Tha Rusty II" is currently underway here, and it will be telecast on Doordarshan from June with 52 episodes.
"It is a continuation of 'Ek Tha Rusty I' and this time, Doordarshan has commissioned me with 52 episodes. So this time we are taking three stories of Ruskin Bond," Subhadarshini Singh, the director and producer of the serial, told IANS.
"Sensualist", "Time Stops at Shamli" and "Shooting at Mango Top" are the three stories of noted writer Ruskin Bond that will be adapted on screen.
"However, we have made the story 'Time Stops at Shamli' as 'Time Stops at Hope Town'," added Singh.
Rusty is a constant factor in all these stories. But this time, three Sikkimese actors - two from Sikkim - Hisheyla Bhutia and Sangey Udenla, and one a Sikkimese actor settled here - Sheri Bhutia - have been roped in for the show.
"The two girls from Sikkim - one a student of a college in University of Delhi (Sangey) and one working in the field of publishing (Hisheyla) are wonderful actors who speak fluent Hindi," she said.
This time, the actor playing Rusty is Bhanu Uday.
"I had never played a writer, so I took it up. Since the source material is good, the product will also be good," Bhanu Uday told IANS.
This time too Ruskin Bond's granddaughter Shristhi Bond will also be seen in a role of a psychopathic person.
Actor Ayub Khan will also be seen in a different role of a quirky police inspector Keemat Lal.
"This is not a usual run-of-the-mill role. It is a good outlet to be here and do different roles," told Khan while talking to IANS.
The serial recreates the scenes of the late 1960s and according to the director, it has been kept to Ruskin Bond's story line and set to the ambience and costumes of that era.
The serial is being shot at Hallow Oak in Mussoorie where there are beautiful bungalows and cottages.
The stories are based in a time when Rusty is almost 30, a struggling writer who is back from England and living in Mulberry Cottage.