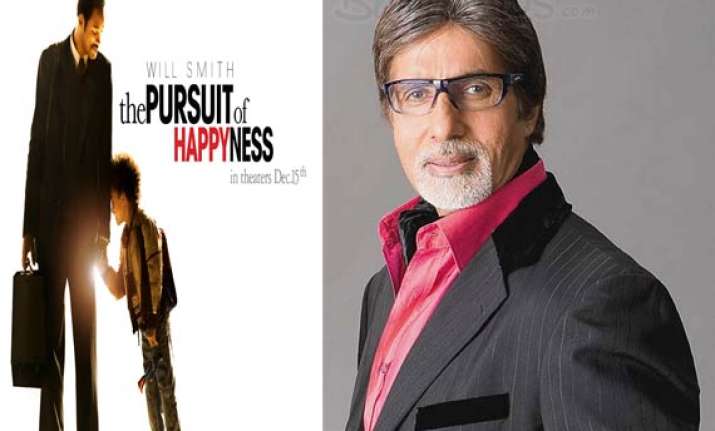 Mumbai, Dec 15 : Filmmaker Shirish Kunder, who is gearing up for his most ambitious project 'Common Man' with megastar Amitabh Bachchan, says the film is on lines of 2006 Hollywood blockbuster 'Pursuit of Happyness'.

"Its not an autobiography but a fictional story. But anyone who watches it will feel like it is their own story.
It is like in the genre of 'Pursuit of Happyness' with Will Smith. Its that kind of a film where there is drama and a sense of comedy and all. Like even when I watched Pursuit..
it reminded me of all the struggle that I made to enter Bollywood," Shirish told PTI, on the sidelines of a launch of a devotional music album, last night.

'Pursuit of Happyness' is a American biographical drama film based on millionaire stock broker Chris Gardner's nearly one-year struggle with homelessness.
Directed by Gabriele Muccino, the film features Will Smith as Gardner, an on-and-off-homeless salesman-turned stockbroker. Smith's real-life son Jaden Smith co-starred as Gardner's son Christopher Jr. The film was a hit and won several awards.

"This is the kind of story that only people like me who is an outsider and have struggled to come in Bollywood can only make. Not anyone who is already here as they don't come across the kind of struggle we all outsiders go through to come into a place where we are not allowed. So we identify with the story ," he said.

After six years, Shirish has managed to finally rope in 'Big B' for his dream film.

The director's previous film 'Jaan-E-Mann' bombed at the box office. He is currently working on Akshay Kumar-Sonakshi Sinha starrer 3D film 'Joker' which releases in August 2012.

Ask him how Big B came on board, he says, "It was during 'Jaaneman' when we had kept a preview for Bachchan Sir, he saw and brought his family next day to see it again. He told me we should work together but bring a role for me with meat in it.
I started working and wanted a solo film for him which is about him. I was hunting...thinking of a story and it took me long time."

"After he had told me to put some meat in it I was like scared that I cannot go with any rubbish to him.
I wanted to be very sure when I went to him that he will not say 'NO'. Mr Bachchan plays a common man who using his one skill how he achieves something special. It will inspire every person be it a rickshaw driver or cashier using their skills how he can achieve something special," he said.

The film goes on floors soon and will release next year.

About the leading lady, Shirish says, "We haven't finalised it yet. He gave his nod for the project just few days back and till then it would have been pointless to think of who to cast. There will be one opposite him of the older generation, then there will be a son and a girl opposite him."

So, is he considering real life son, Abhishek Bachchan for the film. "No. It will not justify him..He needs a bigger role than this. Here the film is about Mr Bachchan...it his driven by him so cannot ask Abhishek. But I would like to do other film with Abhishek in it," Shirish said.