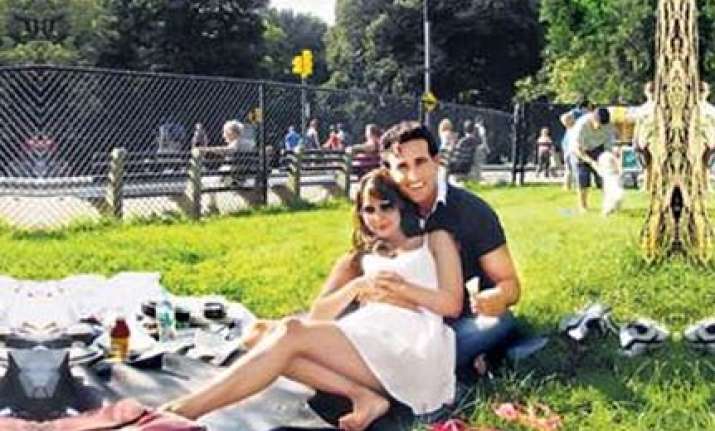 Actor Kim Sharma gets chatty about her romance with Spanish beau Carlos Marin; says they are working towards marriage. 
They've been painting the town red, spotted at several swishy events about town. And the very-much-in-love couple actor Kim Sharma and her beau Spanish musician Carlos Marin are hoping to take their romantic quotient further."We are working towards marriage," says Kim. "That will be when the moment is right — hoping that happens soon," she states.
Their story might seem straight out of a romance novel, with Spanish casas, candlelight dinners and love that blossomed with distance and time, having started in the unlikeliest of places — aboard an airplane. 
"It was an instant attraction!" she grins. "We were seated next to each other on a long flight — Toronto to London. We got talking and actually chatted on for eight hours!" she admits. 
Work drew them apart only to bring them together again. "We were both in Dubai for our respective work and when we managed to meet briefly, Carlos had actually arranged a romantic dinner for us. It was lovely!" Since then, they have gotten closer to each other. When he asked her to come to London for his next show, Kim had a pleasant surprise.
"I didn't realise how big hisband was until I saw the packed crowd who had come to watch. And the best part is that Carlos was so unaffected by the fame. He is a very humble person," she says. 
"We both love eating, sleeping and shopping. Last summer I went to Barcelona, Costa Brava and to Carlos' home in Madrid and met his mother and sister. You know, both Indian and Madrid cultures are so similar. Carlos relates the paella (a traditional Spanish dish) to our biryani. He says it's similar to the dishes they have there. I think the people are similar to Indians, very warm and welcoming. He is also teaching me to speak Spanish." 
Do they have a special song together? "Oh yes, it's Regresa A Mi — an Italian version of Unchained Melody. It's so beautiful and moving. Carlos loves to serenade me," she smiles.