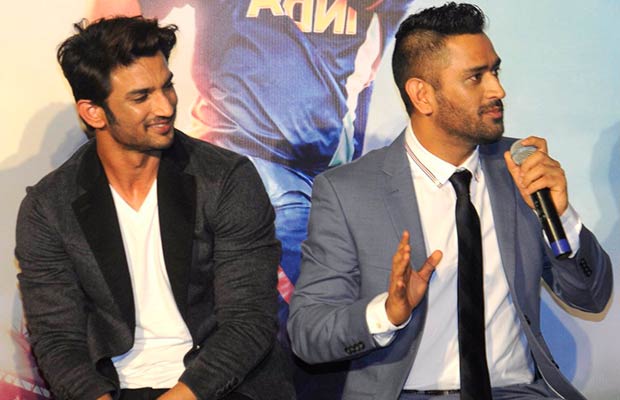 Director Neeraj Pandey's upcoming directorial 'M. S. Dhoni: An Untold Story' has been the talk of the town since the day it was announced.
Featuring actor Sushant Singh Rajput in the lead, the movie happens to be a biopic on ace cricketer Mahendra Singh Dhoni.
'M. S. Dhoni: An Untold Story' has become one of the most anticipated movies of the year. However, Dhoni has confessed that he was quite sceptical about his biopic saying he thought what kind of a film can be made on him as he doesn't have any villains in his life.
The cricketer also stated that he didn't even pay any heed to the idea of having a biopic on him.
However it was the producer of the movie Arun Pandey who convinced Dhoni for the movie. Interestingly, Arun happens to be MSD's close buddy.
"I didn't pay any attention to Arun when he came up with this idea first. But problem took place when he quickly came back and said that we have finalised the deal. So then I couldn't back off. I thought that making the film will take a lot of time," Dhoni said during a recent interview.
The cricketer added, that after agreeing for the movie he opened up about his entire life and the struggle he faced. 'M. S. Dhoni: An Untold Story' will also feature India's historic 2011 world cup under MSD's captaincy.
Dhoni feels that the Sushant Singh Rajput starrer is all about decision making and be humble in your life.
"This film is informative in a lot of ways because people, who know me in Ranchi, don't know what I did in Kharagpur when I lived there for four years. After that from 2004 till now I played internationally. This movie to some extent brings everything together," he added.
The 35 year-old cricketer also spoke about the sequel of his biopic saying, it shouldn't be made as it might be 'too controversial'
Also starring Bhumika Chawla, Anupam Kher and Rajesh Sharma, 'M. S. Dhoni: An Untold Story' will hit the screens on September 30 and will release in 4500 screen across the country.
(With IANS Inputs)