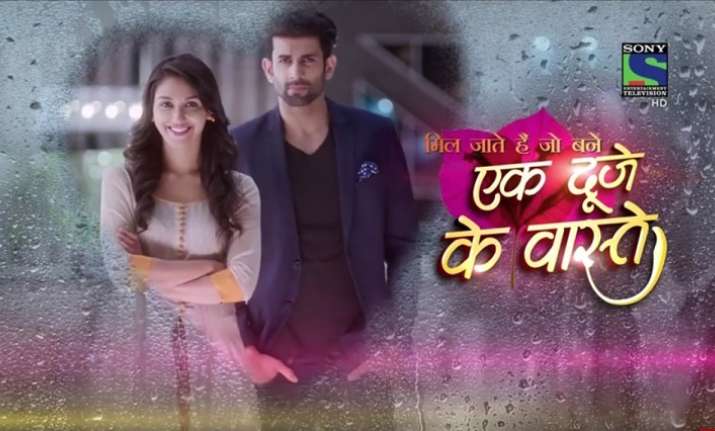 Sony TV's popular daily soap 'Ek Duje Ke Vaaste' is said to be coming to an end next week on October 7.
The reason behind the show going off air is reported to be the TRP issues.
The love saga featuring Namik Paul (who played the role of Shravan) and Nikita Dutta (who played the role of Suman) in the lead was well appreciated by the audience initially.
In fact, 'Ek Duje Ke Vaaste' recently saw an important twist after Shravan and Nikita were married under family pressure.
But, with Nikita's absence, the makers are finding it hard to take the show forward as it is taking a toll on the show's TRP.
Nikita has been missing from the show following her ill health as she is suffering from dengue.
The fans of EKDV, on the other hand, are quite disappointed with the reports of the show going off air.
They have taken it to micro-blogging site Twitter urging the makers not to pull the show off.
This type of chemistry. This type of story can't EVER be recreated. They deserve to get proper closure! @SonyTV @001Danish #DontEndEDKV

— Ghanna (@Ghanna_26) September 27, 2016
Such a beautiful story going down the drain because it's ending won't be what it's supposed to be 😭 #DontEndEDKV https://t.co/x4rx7qV9c2

— ʀ ᴜ ᴋ s ᴀ ʀ. (@RuksarCreations) September 26, 2016
Give it some more time please @SonyTV! Dont break thousands of hearts in just a week! #DontEndEDKV! Theres a lot left in this show still 😩

— • Saloni • (@salkulfree) September 24, 2016
Give them one last chance to finish off what they started, elegantly. ✨💜 #DontEndEDKV @SonyTV @001Danish pic.twitter.com/oz2yTee6Jl

— NAZ (@neethuaz) September 25, 2016
Not just the audience, looks like the cast is also appalled by the reports of 'EK Duje Ke Vaaste' coming to an end.
Lead actor Namik Paul stated that he has no clue about the show being pulled off. However, he did mention that the team is shooting as of now.
I haven't said anything, because honestly, I don't know what to say right now. But we're shooting so there should be an ep on tomorrow :)

— Namik Paul (@namik_paul) September 25, 2016
Just packed up and saw all the activity (52k+ tweets 😯😯😯). I've said it before, and I'll say it again- You guys are just LOVE man ❤️😘

— Namik Paul (@namik_paul) September 25, 2016
Apparently, no official announcement has been made in this regard neither by the channel nor by the makers so far.