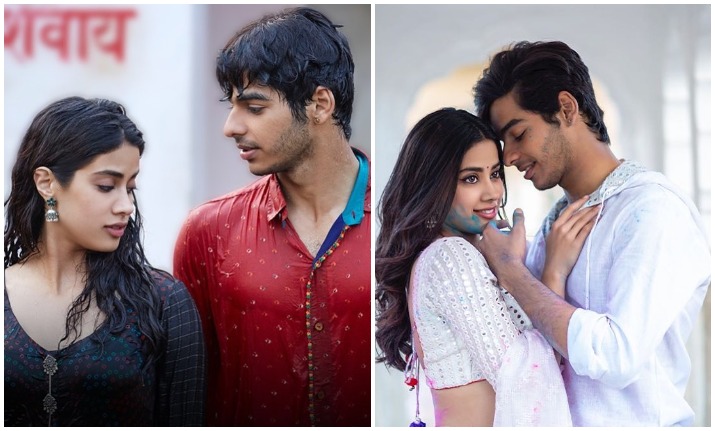 Dhadak LIVE Movie Review: Janhvi Kapoor and Ishaan Khatter are making their first step in the Bollywood today. After getting the rave reviews from the Bollywood celebrities from special screening, now it's a test time for the duo with public. The Shashank Khaitan directorial is all set to release on silverscreens today. As per our predictions, the Janhvi Kapoor-starred is expected to rake in around Rs 10 crore on its opening day at the box office. Heavy rains in Mumbai might hinder the business for the film.
Based on the Marathi superhit Sairat, Dhadak is about two young lovers who dare to love beyond the bounds of caste and religion. Their union leads to unrest and disharmony in their town. Set in the city of Udaipur, Dhadak is a love story of Parthavi and Madhukar. Janhvi Kapoor is playing the role of Parthavi while Ishaan Khatter plays Madhukar. The film has been produced by Karan Johar's Dharma Production. 
Dhadak Movie Review LIVE Updates: Watch the space below
11:58 am: Dhadak's climax also holds a surprise for the audience, as it is going to be different than Sairat.
11:53 am: The recreation of Dhadak's climax is quite interesting and you need to be a bit strong at heart to watch it.  
11:42 am: Further, Parthavi recalls their good old days which is surely going to leave you teary eye.  
11:34 am: Parthavi being previously unexposed to the outer world becomes homesick and lonely as she elopes with Madhukar. 
11:26 am:  Divided by class, their love story takes a turbulent turn, following the footprints of Sairat. 
11:00 am: The film moves to Mumbai post intermission. The tranquillity of the lakes is transformed to the hustle bustle of Mumbai's BEST buses. It then moves to Nagpur and then to Kolkata. 
10:45 am: Janhvi Kapoor's performance being lackluster in the first part, enlivens as we enter the second half. 
10:38 am: Shashank Khaitan has spun the story of Dhadak around class difference and snubbed the caste difference which was the major point of talking in Sairat. 
10:26 am: Dhadak title song, as we already heard before, is endearing in Shreya Ghoshal's magical voice.  
10:13 am: If you loved Sairat and thought that there won't be any other movie greater than this, then you might like to miss Dhadak. It's nothing like Sairat instead, is a typical Bollywood romance with fingerprints of Khaitan-style love. 
09:56 am: As we already saw in the trailer, Janhvi Kapoor needs a lot of work to be done on her expressions. Despite the gravity of the character of Parthavi, her expressions fall flat right from the word go. 
09:47 am: Ashutosh Rana is subtle in the way he portrays his character. His eyes speak more than his words like we've always seen him in his movies. He is playing an affluent political leader in the film. He has worked with Shashank Khaitan earlier in Humpty Sharma Ki Dulhania playing Alia Bhatt's father. 
09:44 am: With the start of the movie itself, Ishaan Khatter grabs eyeballs with his expressions. Not that it's his first time. We already saw what he's got in Majid Majidi's Beyond the Clouds. The picturesque beauty of Rajasthan's Udaipur is captured perfectly by cinematographer Vishnu Rao. With Dhadak, you'll get a brief tour of Rajasthan. Sunset, sunrise, lakes, historical buildings and narrow lanes have been captured beautifully
09:38 am: Janhvi Kapoor dedicates the film to her late mother Sridevi Boney Kapoor. The veteran actress breathed her last in Dubai this February. She was in the city to attend her nephew Mohit Marwah's wedding. According to her autopsy report, Sridevi died due to accidental drowning in her bathtub. 
09:30 am: Our film critic is inside the theatres to watch Dhadak. Watch the space for LIVE review. 
09:18 am: Bollywood celebrities are all praises for Janhvi Kapoor and Ishaan Khatter in Dhadak. 
ENJOYED #Dhadak !!#JanhviKapoor is so immensely watchable! She surprised me with her ENDEARING performance! @imIshaanKhatter is a completely ENERGETIC actor!@AjayAtulOnline 's title track is on LOOP!
CONGRATS @karanjohar @ShashankKhaitan for yet another BO success! pic.twitter.com/0Rj6ziBkUr

— Ashutosh Gowariker (@AshGowariker) July 19, 2018
#Dhadak is so beautiful yet an intense film! I totally loved it @karanjohar @ShashankKhaitan 💕#Ishaan & #Janhvi I'm sure you will win over everyone with your wonderful performances. Sending out my best wishes to the entire team for the big release tomorrow!👍

— Madhuri Dixit Nene (@MadhuriDixit) July 19, 2018
Watched #dhadak last night I walked out with so many emotions,to begin with #jhanavi n #Ishaan are absolutely brilliant..they did nt get a single beat wrong,they performed like pros,danced like lightening and looked youthful and gorgeous. I'm blown away.. @karanjohar only u can.

— Neha Dhupia (@NehaDhupia) July 19, 2018
It's out today #Dhadak !!! @ShashankKhaitan has made a heart warming & yet gut wrenching love story....he's handled the 2 Of them so deftly. Ishan u have nailed the simplicity & energy of a young kid who just sees purity in love Janhvi u left me speechless so bloody proud of u...

— Arjun Kapoor (@arjunk26) July 20, 2018
Last night was at the #dhadak screening @ShashankKhaitan ur story telling has so much theraaav. Superbly executed. #JhanviKapoor is outstanding in the film . Ishaan has done a good job as well.u dont wana miss this one guys have to watch it. DONT MISS IT. pic.twitter.com/DnPpbIurS0

— Arjun Bijlani (@Thearjunbijlani) July 19, 2018