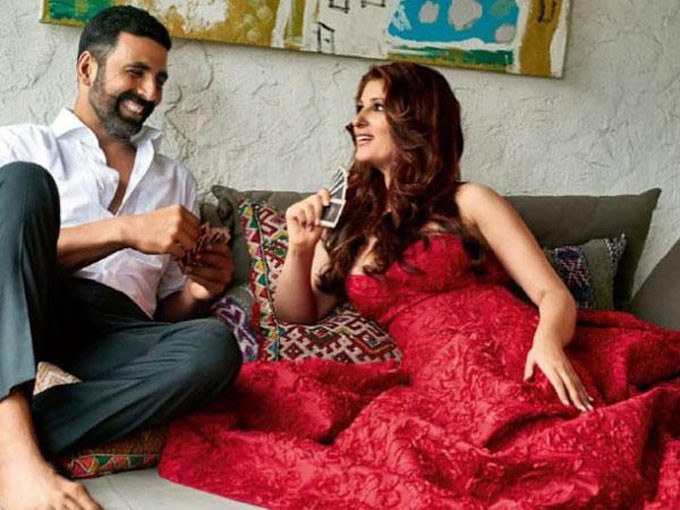 It has been 25 years since he came to the film industry and he is reigning since then. With number of hits increasing each year, Akshay Kumar's rise is seeing no end anytime soon. He turned 49 today and he is as fit as he was when he came to the industry.
Akshay has been bestowed with many tags, Khiladi Kumar, Mr Box Office to name a few. But, maybe the one he likes the most is when he is addressed as 'A Family Man'.
When Akshay married actress Twinkle, he was a rising star while she was the daughter of superstar Rajesh Khanna. As unlikely this match was, the two have been working constantly together to make it work. It is this dedication that their marriage is rock solid since 2001.
Khiladi Kumar, however, has revealed the secret behind their happy marriage. During his detailed interview to a leading entertainment magazine, he said,
"Put your wife first, no matter what. No matter how difficult it may be, or how tired you are, or what stress you're going through. A happy wife makes a happy home. After all, you want to come home to a life worth living. Treat her like a queen and never let her go or make her want to."
Get it men? Wife comes first if you want your life to be as amazing as Akshay's.
Heaping praises on Twinkle, who is now an author and wins hearts with her sarcastic tweets, Akshay said,
"My wife is my Superwoman. She always has been and continues to prove to the world that she always will be. No amount of words can describe the amount of pride. I hold for my wife and her new career. Even though she needs nothing from me, I support her at every step, for every article. Every move she makes, my hand is right there behind her… ready to catch her or clap for her."
Mrs Funnybones, as Twinkle is known in the web world includes Akshay a lot in her work. Many times it is to take a dig at her husband but Akshay doesn't complain. In fact he said,
"Her opinion is strong, her wit is painfully funny and her honesty is infectious. She can write whatever she wants about me, I'll always oblige."
In the interview, Akshay also spoke about his kids Aarav and Nitara. Speaking about the younger one, Akshay said that Nitara is interested in only one thing.
"Nitara is interested in one and only one thing and that's Hanumanji. She's beautifully obsessed and I couldn't be happier,"
he told.
Much like Akshay, his son Aarav too has developed a penchant for cooking. Aarav has been taking cooking classes in New York. Speaking about it Akshay said,
"The cooking course in New York was in preparation for his training camp in London, where he learns to cook and fend for himself, train and travel like I did when I went to Bangkok. I'd never make him cook for me. But he does like to bake for the family. Like father like son, his world revolves around training, food and family.  And Aarav's only 13. I'm a proud father right now."
In the interview, Akshay added that he is strict about his work timings because he has to go back to a family who loves him unconditionally.