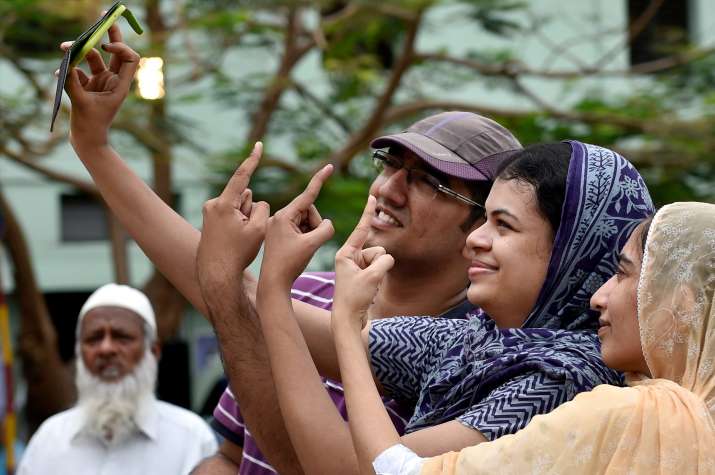 Lok Sabha Election 2019, the Mahakumbh of Indian democracy, will begin on April 11 and continue for over a month till May 19 across seven phases, followed by counting of votes on May 23. The Election Commission on Sunday announced the complete schedule for Lok Sabha elections, kick-starting the countdown for a mega electoral battle where the BJP will pitch for a re-election of the Modi government amid the Opposition's efforts for a united fight to unseat it.
Voting will take place on April 11, April 18, April 23, April 29, May 6, May 12 and May 19 for 543 Lok Sabha seats across the country in which nearly 90 crore voters would be eligible to vote, the Chief Election Commissioner Sunil Arora said at a packed in New Delhi. 
The number of voters in the Lok Sabha elections will be around 900 million. There would be approximately 10 lakh polling stations this year, up from 9 lakh in the last general election in 2014. Of the total electorate, 15 million will be in the age group of 18 to 19 years.
With the announcement of poll schedule, the poll panel on Sunday imposed 'model code of conduct' with immediate effect for the Lok Sabha elections and announced that 'voter verifiable paper audit trail' will be used in all polling stations this time. Among other things, the model code of conduct bars the government from announcing any policy move that may impact voters' decision.
ALSO READ | Lok Sabha election 2019 dates announced: The key dates and numbers you should save
As the Election Commission announced the schedule for the much-awaited Lok Sabha polls, Prime Minister Narendra Modi said the BJP-led NDA seeks people's "blessings again". "Guided by 'sabka saath, sabka vikas', NDA seeks your blessings again. We spent the last five years fulfilling basic necessities that were left unfulfilled for 70 long years," he tweeted from his personal handle. He said, now, time has come to "build on that and create a strong, prosperous and secure India". 
Lok Sabha Elections 2019: Phase-wise details
In the first phase, 91 seats spread across 20 states and union territories - Andhra Pradesh (25), Arunachal Pradesh (2), Assam (5), Bihar (4), Chhattisgarh (1), Jammu and Kashmir (2), Maharashtra (7), Manipur (1), Meghalaya (2) Mizoram (1), Nagaland (1) Odisha (4), Sikkim (1) Telangana (17), Tripura (1), Uttar Pradesh (8), Uttarkhand (5), West Bengal (2), Andaman and Nicobar (1) and Lakshadweep (1). 
A total of 97 seats in 13 states and a union territory will go to polls in the second phase on April 18 - Assam (5), Bihar (5), Chhattisgarh (3), Jammu and Kashmir (2), Karnataka (14), Maharashtra (10), Manipur (1), Odisha (5), Tamil Nadu (39), Tripura (1), Uttar Pradesh (8), West Bengal (3) and Puducherry (1). 
Phase three on April 23 will see polling in 115 seats across 14 states and union territories - Assam (4), Bihar (5), Chhattisgarh (7), Gujarat (26), Goa (2), Jammu and Kashmir (1), Karnataka (14), Kerala (20), Maharashtra (14), Odisha (6), Uttar Pradesh 10, West Bengal (5), Dadra and Nagar Haveli (1) and Daman and Diu (1).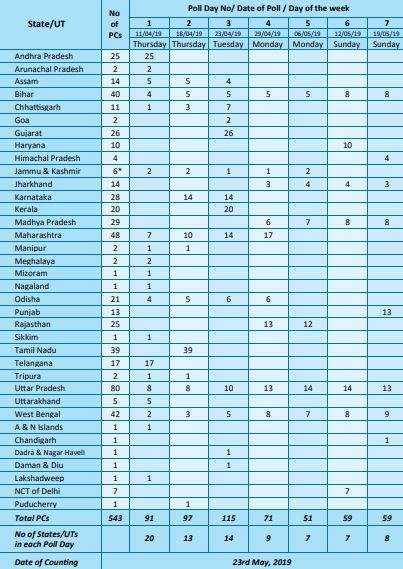 Elections in phase four on April 29 will be held in 71 seats across nine states - Bihar (5), Jammu and Kashmir (1), Jharkhand (3), Madhya Pradesh (6), Maharashtra (17), Odisha (6), Rajasthan (13), Uttar Pradesh (13) and West Bengal (8).
Phase five on May 6 will witness polling in 51 seats in seven states - Bihar (5), Jammu and Kashmir (2), Jammu and Kashmir (2), Jharkhand (4), Madhya Pradesh (7), Rajasthan (12), Uttar Pradesh (14) and West Bengal (7). 
On May 12, in the sixth phase of polling covering 59 seats in seven states - Bihar (8), Haryana (10), Jharkhand (4), Madhya Pradesh (8), Uttar Pradesh (14), West Bengal (8) and Delhi (7).
ALSO READ | More than 900 million voters in India to exercise universal adult suffrage in world's biggest election
In the final phase of polling on May, elections will be held in 59 seats in eight states - Bihar (8), Jharkhand (3), Madhya Pradesh (8), Rajasthan (13), Punjab (13), West Bengal (9), Chandigarh (1), Uttar Pradesh 13 and Himachal Pradesh (4).

Andhra Pradesh, Arunachal Pradesh, Goa, Gujarat, Haryana, Himachal Pradesh, Kerala, Mizoram, Nagaland, Punjab, Sikkim, Telangana, Tamil Nadu, Uttarakhand, Andaman and Nicobar, Daman and Diu, Lakshadweep, Delhi and Chandigarh will have a single-day polling.
Karnataka, Manipur, Rajasthan and Tripura will have a two-phased, while Assam and Chhattisgarh will have three-phased elections. Jharkhand, Madhya Pradesh, Maharashtra and Odisha will have four phases while Jammu and Kashmir will have five phases.
No state has six-phased polling. Bihar, Uttar Pradesh and West Bengal will have polling in seven phases.
Polls for Andhra, Arunachal, Sikkim & Odisha Assemblies with Lok Sabha elections
Elections for Andhra Pradesh, Arunachal Pradesh, Sikkim and Odisha Assemblies will be held along with the Lok Sabha polls.
Polling will take place in one phase in all these states, except Odisha, where it will be held over four phases. 
While Andhra Pradesh, Arunachal Pradesh and Sikkim will go to vote on April 11, the polling dates for Odisha have been announced as April 11, 18, 23 and 29. 
This is the second time since its bifurcation (to carve out Telangana) in 2014 that Andhra Pradesh will see Assembly polls. The last time too, the Assembly elections were held with the Lok Sabha polls. The state will vote to elect 175 legislators to the 176-member Assembly. One member is nominated.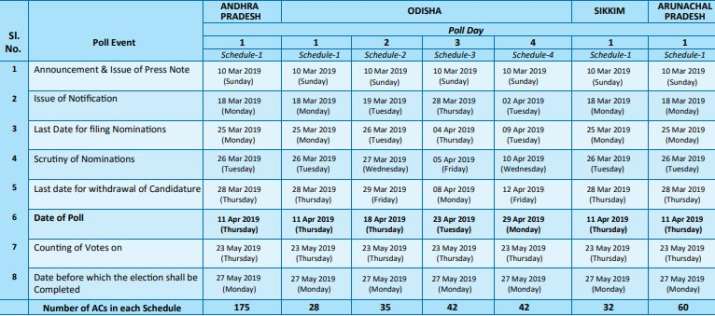 Arunachal Pradesh will go to polls for 60 seats. It is ruled by the Bharatiya Janata Party (BJP)'s Pema Khandu. He became the Chief Minister in 2016 after the resignation of Nabam Tuki of the Congress and imposition of the President's rule.

Polling for Odisha's 147 seats will be held in four phases. Counting of votes will be held on May 23, along with the Lok Sabha votes. The Odisha Assembly's term ends on June 11. Biju Janata Dal (BJD) chief Naveen Patnaik who has ruled the state since 2000 will be contesting for the fifth term this year. 

Sikkim will see polling for 32-seat Assembly, whose term ends on May 27. The state is ruled by Sikkim Democratic Front (SDF)'s Pawan Chamling who will be contending for sixth term. 
ALSO READ | No assembly elections in Jammu and Kashmir for now, says Election Commission
Lok Sabha Elections 2019: By-elections to legislative assemblies
The by-elections will be held for 34 seats across 12 seats. The Chief Election Commissioner said the bypolls will be conducted as per the same schedule of the relevant parliamentary constituencies. The Election Commission will hold by-election for 18 Assembly constituencies in Tamil Nadu along with the Lok Sabha polls on April 18, leaving out three Assembly seats mired in court cases. The by-election will be held in Thiruporur, Poonamallee, Perambur, Pappireddipapatti, Harur, Sholinngur, Gudiyatham, Hosur, Ambur, Nilakkottai, Thiruvarur, Thanjavur, Andipatti, Periyakulam, Manamadurai, Vilathikulam, Sattur and Paramakudi. He said the three seats locked in judicial battles are Ottapidaram, Thiruparankundram and Aravakuruchi.
Check Full schedule below: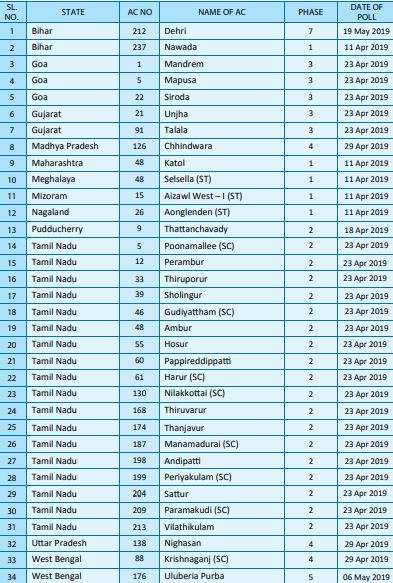 Social media platforms to deploy fact checkers to curb fake news
Social media platforms will deploy "appropriate fact checkers" to scan fake news and use of abusive language ahead of Lok Sabha polls, the Election Commission said. Announcing the poll schedule here, Chief Election Commissioner Sunil Arora said each of the social media platforms has created a mechanism to accept only pre-certified political advertisements during the election process and will share the expenditure incurred in this regard with election authorities. He said all election management-related news on all major national and regional news channels would be monitored vigorously during the election.
This LS polls, candidates will have to advertise their criminal records
The Election Commission has made it compulsory for candidates contesting polls to advertise their criminal antecedents in TV and newspapers at least three times during electioneering.Though directions in this regard were issued on October 10, 2018, the rule will be used for the first time in this Lok Sabha election. According to the directions, political parties too will have to give publicity to the criminal records of candidates fielded by them. This means that candidates and parties contesting the election will have to publicise their criminal records at least on three different dates in widely circulated newspapers and popular TV channels during the campaign period. Candidates who do not have records have to mention that. The candidates will now have to fill up an amended form (number 26). They will have to inform parties about their antecedents such as cases in which they have been convicted and cases pending against them.
EVMs to carry candidate pics to avoid confusion over similar names
EVMs and postal ballot papers would carry photograph of all candidates to help voters identify the political leaders in the fray. The Election Commission said the provision for printing the candidate photographs will help avoid any confusion which may arise when candidates with similar names contest from the same constituency. The photograph will be printed on the Electronic Voting Machine (EVM) ballot units as well as on postal ballot papers. For this purpose, the candidates are required to submit to the returning officer, their recent stamp size photograph as per the specifications laid down by the Commission.
FULL VIDEO: