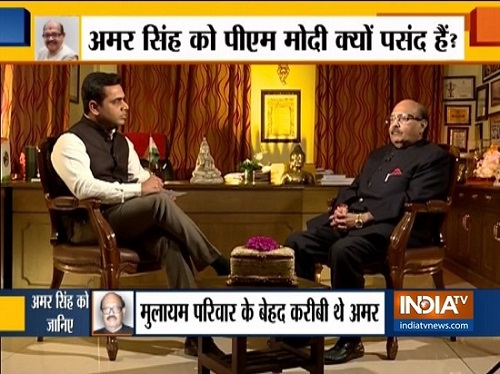 Former SP leader and Rajya Sabha MP Amar Singh is all praise for the BJP, so much so that he didn't rule out joining the saffron party. He had recently changed his Twitter name in support of PM Modi's #MainBhiChowkidar campaign on the social media platform. In an exclusive interview to India TV, Singh opened up on a range of issues. 
Singh clearly hinted that actor-turned-politician could be joining the Bharatiya Janata Party (BJP) soon. 
"For her, joining BJP will be a fortunate thing. Why will anyone choose to remain deprived of it if given a chance. However, I don't want to divulge if she's joining or not," he said. 
On being asked if Jaya Prada will fight from Rampur Lok Sabha seat, he said it will be a matter of great contentment if she gets an opportunity to fight from the BJP. There's no question of her contesting as an independent candidate, he added. 
Asked who does he find the most powerful among SP-BSP alliance, BJP and Priyanka Gandhi, Amar Singh said: "More than any party, I see a personality, an ideology and that is Narendra Modi. After Pulwama attack, he had assured  the country was in safe hands."
Amar Singh also spoke about the exclusion of Mulayam Singh Yadav from the list of Samajwadi Party star campaigners. 
"Mulayam Singh has committed two mistakes, first was giving reigns to his son, second was including Ramgopal Yadav after suspension," he said. 
WATCH FULL INTERVIEW: