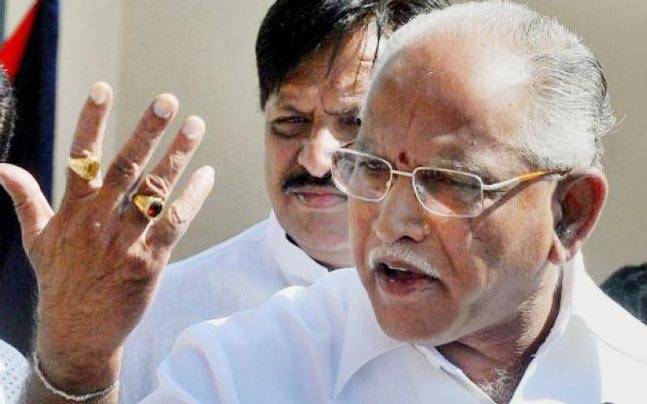 B S Yeddyurappa – BJP's CM candidate in poll-bound Karnataka – on Saturday asked party supporters to identify non-voters and get them to cast their ballot for the party's candidate in the forthcoming election.
Also Read: PM Modi in Karnataka's Chitradurga: 'Give a farewell to Congress, which is not concerned about your welfare'
A news agency, later, tweeted that Yeddyurappa asked the BJP workers to 'tie-up the hands and legs' of those people who are not interested to vote in the upcoming elections and bring them to vote for the party. 
Clarifying on his remarks, Yeddyurappa tweeted that his remarks had been misunderstood. Repeating the phrase, he clarified that it means holding people's legs and hands to compel people to vote.
"I belong to a farmer-village background. This is how we villagers speak. It is not apparent to some people," he said, responding to a tweet in English from the Karnataka Congress that counted his statement as a threat. 
Meanwhile, Prime Minister Narendra Modi took exception to the language used by Congress against Yeddyurappa, and said that they talking "rubbish" about him.
Addressing an election rally here in Yeddyurappa's home district on Saturday, PM Modi said political differences and rivalry may exist, allegations and counter-allegations made, but restraint must be exercised while speaking. 
"The kind of language they are using....baseless allegations they are making ignoring his age and commitment to the society. 
"All kinds of 'anap shanap' (rubbish) language is being used...I want to tell the people of Shivamogga to ensure that Congress candidates lose their deposit, Yeddyurappa's insult is avenged," he said with the Lingayat strongman seated on the dais. 
He also hit out at Congress leaders for making "fun" of Yeddyurappa's visit to homes of people belonging to the deprived sections, saying it amounted to ridiculing the poor. 
Modi's defence of Yeddyurappa came following relentless attacks by Congress leaders, including its president Rahul Gandhi, who raised questions over the BJP declaring a "corrupt and tainted" person its chief ministerial candidate.