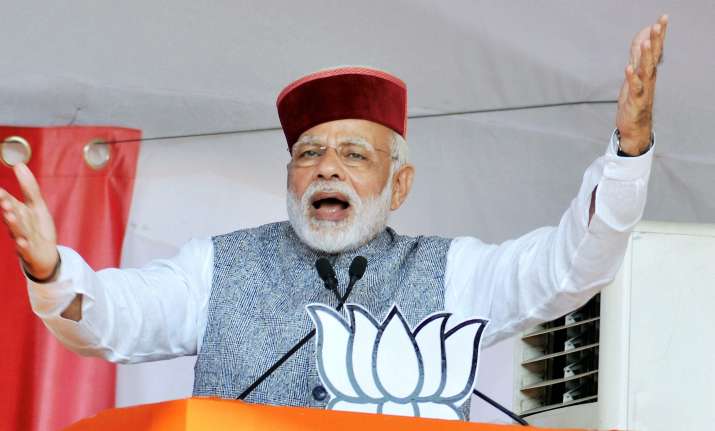 Prime Minister Narendra Modi will address public rallies in Una, Palampur and Kullu in poll-bound Himachal Pradesh today. This is Modi's second visit to the state in as many days.   
Modi had addressed two rallies at Rait (Kangra) and Sundernagar (Mandi) on Saturday. 
Here are the highlights:
04:24 pm: Former PM Indira Gandhi refused to carry out note ban. Had she done note ban when needed, I would not have had to carry out this big task: PM Modi
03:55 pm: It is Congress' habit to 'atkao, latkao and bhatkao' development: PM Modi
03:49 pm: Blessings of 125 crore Indians helping me to take tough decisions for nation's development: PM Modi
03:42 pm: Saare ke saare log aaj bhrashtachar ke aaropon mein zamanat par bahar ghoom rahe hain: PM Modi
03:35 pm: 
Congress and corruption can never separate from each other: PM Modi in Kullu, Himachal Pradesh pic.twitter.com/cznKT9ZGYo

— ANI (@ANI) November 5, 2017
03:30 pm: 
हिमाचल में इस बार तीन चौथाई बहुमत से भाजपा की सरकार आ रही है : पीएम मोदी - लाइव https://t.co/Ic7Qp0Jt3I पर #ModiDhumal4Vikas pic.twitter.com/wY0NXa0xgi

— BJP (@BJP4India) November 5, 2017
03:25 pm: I will repay the debt of Himachal Pradesh on me with interest and I will do so through development: PM Modi in Kullu
02:28 pm: PM Modi says in Palampur poll rally he does not fear effigies being burnt; his fight against corruption will not stop: PTI 
02:27 pm: They thought that this seat was reserved for them and nobody could reach there. But public knows everything: PM Modi in Palampur 
02:25 pm: Congress is pained and wondering how a tea vendor could become the Prime Minister. How a son of a poor mother reached such heights?: PM Modi 
02:24 pm: Shanta Kumar ji took up herculean task of laying water pipelines, Dhumal ji's contribution towards promoting tourism in HP is well known: PM
02:23 pm: Corruption is the only identity of Congress party: PM Narendra Modi in Palampur, Himachal Pradesh
12:10 pm: I am saddened by one thing in this election, there is no fun as Congress has already conceded defeat: PM Modi 
11:55 am: Have never seen such enthusiasm for BJP that I am witnessing this time in HP: PM Modi 
11:54 am: Himachal Pradesh elections this time is a one-sided contest: PM Modi in Una
At a rally in Kangra yesterday, the state's largest and politically key district, he launched a stinging attack on the Congress over corruption, likening the party to termites, and exhorted the people to finish it off by handing over a three-fourth majority to the BJP in the November 9 Assembly polls. 
Polling for the 68-member Himachal Assembly will take place on November 9 while counting of votes is scheduled for December 18.