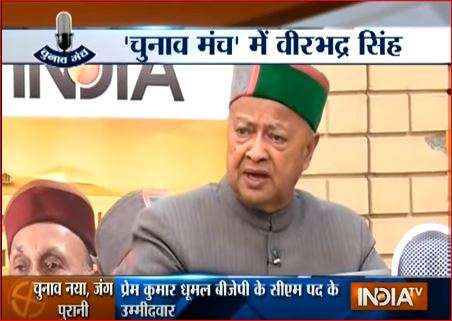 Himachal Pradesh Chief Minister Virbhadra Singh today exuded confidence of retaining power in the upcoming Assembly elections in the state.
Appearing in "Chunav Manch" programme of India TV, Virbhadra Singh said that his government has fulfilled all the promises it had made in its 2012 election manifesto and therefore the party will return to power with a clear majority once again.
"We will surely return to power. We will not only win but secure a majority and form the government comfortably," Virbhadra Singh, the six-term Himacal CM, said.
Launching a scathing attack on the BJP for levelling allegations of corruption against him, the Himachal chief minister said that let the saffron party prove its charges.
" If I am corrupt, let the BJP prove it," Virbhadra Singh said.
Responding to the ongoing corruption cases against him including those relating to money laundering as well Disproportionate Assets (DA), Virbhadra Singh said that they were all politically motivated and aimed at demoralising him.
" To make such allegations is height of stupidity,  I have got ancestral properties that exist for last 100 years. I have not committed any crime," he added.
On Prime minister Narendra Modi's allegations of the Congress government ruining the state in last five years, Singh said that it does not behove the stature of a Prime Minister to make such charges.
" He knows everything as the record of my government's developmental work is available with ministries of the central government," the Himachal chief minister said.
The voting in Himachal Pradesh will take place on November and the counting of votes will be done on December 18.
The state is all set for a direct contest between the ruling Congress and the opposition BJP. Virbhadra Singh, the incumbent chief minister, is once again the CM candidate of the Congress party. The BJP, on the other hand, has declared former chief minister Prem Kumar Dhumal to be its CM candidate for November 9 elections.  
In 2012 elections, the Congress had won 36 out of 68 seats in Himachal Pradesh Assembly and the party had secured 42.81% of vote share. The BJP, on the other hand, had won 26 seats with a vote share of 38.4%.