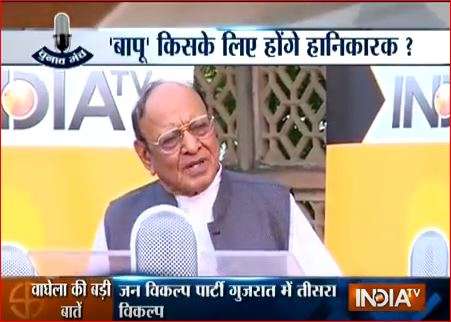 Former Chief Minister Shankersinh Vaghela today said that the people of Gujarat are not happy with either the ruling BJP or the opposition Congress.
Appearing in India TV's election show "Chunav Manch", Vaghela said that people's unhappiness with both Congress and BJP was the reason why he decided to form a new party and contest the elections.
Vaghela said that he was confident of his "Jan Vikalp Party" emerging victorious in the upcoming Assembly elections. He refuted allegations that his party was working as the B-team of the BJP.
Replying to a question on what led to his exit from the Congress, Vaghela said that he had advised the party to do the homework before distributing the tickets for the Assembly elections.
" The Congress refused to change the system and I was left with no option than to leave the party," Vaghela said.
He further claimed that the Congress party changed 30 candidates in 2012 Assembly elections at the eleventh hour which led to the defeat of the party.
Vaghela also added that he was still in touch with Rahul Gandhi.
He also claimed that there was no question of his joining either the BJP or the Congress after he left both these parties.
He also added that in case of  a hung Assembly, he will not join hands with either the BJP or the Congress.