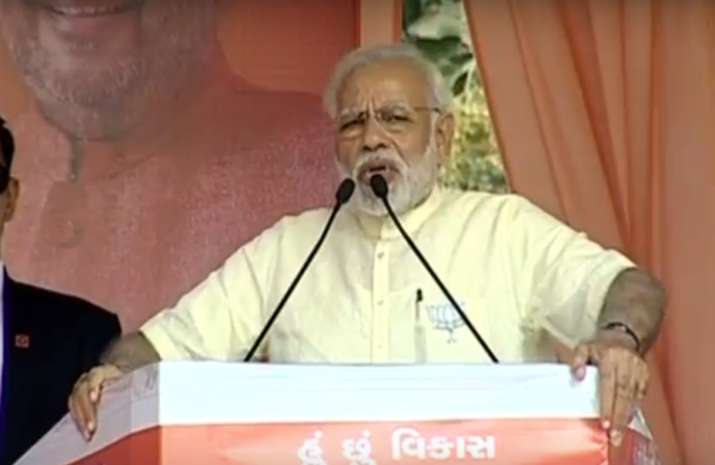 Prime Minister Narendra Modi kickstarted the second day of campaigning for phase 2 of Gujarat Assembly elections by attacking Congress at a poll rally in Mehsana district's Lunavada. In the second rally at Bodeli, PM Modi once again referenced former Congress leader Mani Shankar Aiyar's 'neech' remark against him. 
Accusing the Opposition party of divisive politics, PM Modi said that the old party has been wiped out of entire country. 
Upping the ante against Congress on Friday, the prime minister shamed party leaders for levying personal attacks against him over the years.
Modi virtually read out a laundry list of abuses poured on him by Congress leaders, including Sonia Gandhi and "her family members".  At a campaign rally at Bhabhar town earlier in the day, he also accused Aiyar of giving "supari" (contract) while on a visit to Pakistan to get him "removed" from the way to improve bilateral ties.
Full Coverage: Gujarat Assembly Election
Here are the live updates: 
PM Modi addresses public rally in Mehsana
06:00 pm: I asked the people of Mehsana- which party believes in misgovernance, which party brought corruption in the nation, which party looted the nation for years, which party divided society…you can guess their unanimous answer.
05:08 pm: India which was once considered as a golden bird, has been destroyed by the Congress. You have to give accounts of your four generations: PM Modi
05:06 pm: All Congress has done is prompting corruption, looting people, and spreading nepotism and casteism: PM Modi
04:58 pm: Without development there is no solution to the problems India faces: PM Modi
PM Modi's poll rally in Anand
03:30 pm: Nobody in the nation is ready to accept Congress, Gujarat has already rejected it long ago: PM Modi
03:25 pm: Rajiv Gandhi had said that he sends one rupee, only 15 paise reaches the villages. He had called it a disease, which Modi treated. Do you want a doctor who tells about a disease, or one who treats it: PM Modi
03:10 pm: Congress party is synonymous with corruption. Their corrupt practices will never be accepted in Gujarat
#3:00pm: Congress destroyed country with corruption, should forget about winning Gujarat in this incarnation: PM Modi in Anand
#2:55pm: PM Modi begins rally in Anand, Gujarat
#1:38pm: Congress is sinking party, make sure it does not win in even a single booth across Gujarat: PM in Bodeli
#1:35pm: How can people living in palaces understand the problems of poor, those who do not know that potato grows in a farm or a factory cannot understand plight of poor: PM
#1:33pm: Congress leaders are unable to understand and identify with the aspirations of the tribal communities and the farmers: PM Modi in Bodeli
#1:30pm: I have served Gujarat for 13 years. When I was CM, I have spent all my time working for the people of Gujarat and now I am serving the people of India with your blessings. Our focus is development : PM Modi in Bodeli
#1:20pm: PM Modi addresses poll rally in Bodeli
#12:01pm: I want to tell all Congress leaders who are abusing me, mocking my poor family, asking who my parents are- this nation is my everything. Every moment of my time is devoted to India and 125 crore Indians: PM Modi
​#11:50pm: When Rajeev Gandhi was prime minister Muslim women met to him to resolve Triple Talaq issue, but Congress govt did not do anything 
#11:40am: Salman Nizami asks on Twitter- Modi who is your father, who is your mother? Among the other things he says- he calls for Azad Kashmir. He calls our army rapists. How can the people accept such people like Salman Nizami? He also says there will be an Afzal from every home: PM Modi
#11:35am: There is a youth Congress leader Salman Nizami, he is even campaigning for Congress in Gujarat. He wrote on Twitter about Rahul Ji's father, grandmother. That is ok but he asks - Modi tell me who is your Mother, who is your father? Such language can't even be used for enemies: PM
#11:33am: Congress lacks the understanding of ground issues and temperament of Gujarat
#11:32am: Congress has former PMs, cabinet ministers, chief ministers in the party, can anybody explain the reason of their defeat
#11:30am: Congress has been rejected comprehensively across the nation. Gujarat too will reject the Congress and will punish them for their politics: PM Modi in Lunavad
​
Meanwhile, voting for the first phase of the crucial Gujarat assembly polls began today on 89 seats of Saurashtra and South Gujarat regions.  Around 2.12 crore voters would be exercising their franchise in Modi's home state to choose between the ruling BJP and the Congress.
A total of 977 candidates are in fray for the first phase polls.
Prominent candidates for today's battle include Chief Minister Vijay Rupani, who is contesting from Rajkot (West), and Congress' Shaktisinh Gohil (Mandvi) and Paresh Dhanani (Amreli).
The second phase polling is on December 14 and counting, along with that of Himachal Pradesh, will be held on December 18.