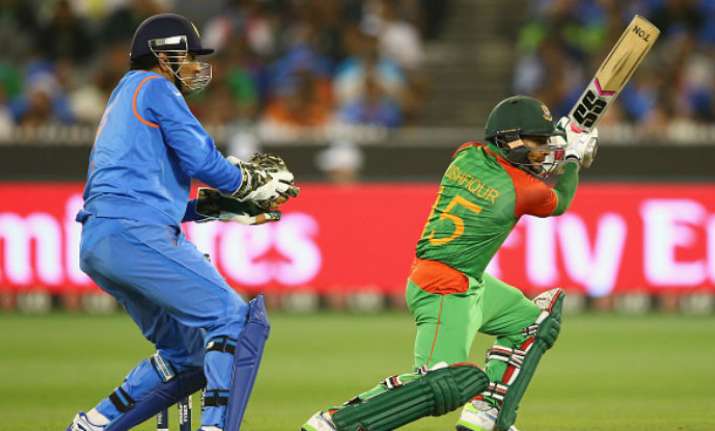 Team India is ready to battle Bangladesh for ICC Champions Trophy 2017 second semi-finals at Edgbaston today. The adrenaline rush can be felt among the people. INDvBAN hash tag has already hit the trending charts on Twitter. India, who chose to field first, charged at Bangladesh with a wicket in the first over itself. But while most of the cricket buffs are glued to their television sets, there are few legends who are having a field day on Twitter. People from both the countries are willing to see their respective nations to enter the finals and their Twitter wars are rather tickling the hell out of people. Have a look. 
Here's how Twitterati reacted on team India winning the toss. 
Kohli after toss be like:#INDvBAN pic.twitter.com/VE4ahifiTs

— H...🇲🇷 (@Badnambacchan) June 15, 2017
One thing that deserves a mention here is, today both the national anthem played in the cricket stadium are written by Rabindranath Tagore, 'Jan Gana Mana' and 'Amar Sonar Bangla'. 
Divided by Cricket and United by National Anthem#INDvBAN

— Aagam Shah (@aagamgshah) June 15, 2017
The cricket lovers have found a historical significance of the date as well.
History will repeat itself.#INDvBAN #ChampionsTrophy #CT17 pic.twitter.com/Tyh4s6q8X7

— Brewed News (@BrewedNews) June 15, 2017
Bangladeshi fans have been using some impertinent cartoons to mock team India before an impending match. Here's how Indians took a jibe at them. 
seriously bangladesh #INDvBAN pic.twitter.com/oxXO7y8I95

— Godman Chikna (@Madan_Chikna) June 15, 2017
Dear Bangladeshi fans, if you're done with photoshopping, I have something for you. BURN😉#INDvBAN #CT17 pic.twitter.com/DZwoArIzPm

— Legion (@legion__group) June 15, 2017
Indian team under pressure? Who said? 
Experts : Its high voltage semifinal match between #INDvBAN coming up. Huge pressure on Indian players...bla..bla..bla

Reality: pic.twitter.com/RO7LHebtmg

— Kuptaan🇮🇳 (@Kuptaan) June 15, 2017
While people are battling heads-on on Twitter, there are handful of Indians who couldn't stop drooling on Bangladeshi girls in the pavilion. 
No matter how much we hate bangladesh
We can't hate their cricket fans..😊😊#INDvBAN pic.twitter.com/6t7tUGoY5l

— Kamina__Chhora (@kamina__chhora) June 15, 2017
Our Bollywood actor, Abhishek Bachchan  is an ardent fan of cricket himself. Here's how he is cheering the 'Paltan'. 
Congratulations @YUVSTRONG12 on this milestone. #Yuvi300. Come on boyz, lets win this 1 for 1 of Indian crickets greatest warriors!! 🇮🇳vs🇧🇩

— Abhishek Bachchan (@juniorbachchan) June 15, 2017
We'll have to wait till the match concludes to find the real winner. Till then, just enjoy the furious battle of fans on Twitter. 
India leads Bangladesh 5-1 in ICC events but this is the first time they'll be facing each other in ICC Champions Trophy 2017.