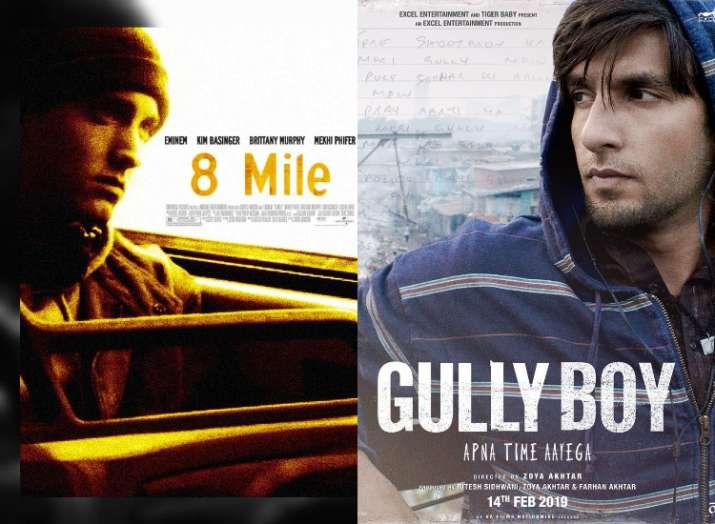 Ranveer Singh's upcoming Bollywood film Gully Boy has created quite a buzz among the fans as they are excited to see their favourite actor rap like a boss raps in the 'Asli Hip Hop' trailer announcement for Gully Boy, standing in front of a crowd and hyping them up. Ranveer Singh claims that "Asli Hip Hop se milaye Hindustan ko" in the video, however, netizens do not agree with him on this. Just when the video popped on the internet, twitterati flooded it with comments saying that Ranveer Singh's video looks like a somewhat rip-off of Eminem's story, 8 Mile.
Going by the netizens' verdict, Gully Boy, which literally translates to 'Boy from the street' has eerie similarities to the 8 Mile, including a shot of him hyping up a crowd in a dimly-lit nightclub, being almost identical.
Check out what Twitterati has to say about it-
As exciting and raw as #GullyBoy looks, I'm really hoping the makers are true to the 'street' aesthetic that @VivianDivine and @NaezyTheBaA represent. Last thing I want to see is a glorified 8 Mile rip-off where Detroit is replaced with Dharavi to please the masses.

— Jackie J. Thakkar (@Juvenile_Jack) January 4, 2019
Watched the Gully Boy teaser. I see a lot of 8 Mile. Anyone with me? #GullyBoy #NoOffense

— Neelargho Ray (@neelarbro) January 4, 2019
So we're getting a Hindi version of 8 MILE ..looks good though..#GullyBoy

— Rohan Gupta (@Rohaan49) January 4, 2019
I totally appreciate the fact that they are making movie on some real artists life, but can you please stop copying ? Many scenes are rip off from Eminem's movie 8-mile 🙄#GullyBoy #GullyBoyTrailer #GullyBoyTeaser https://t.co/K8cIaC4XKc

— Kartikay (@RavanPrideMax) January 4, 2019
Reminded me of Eminem's 8 Mile.. Hope it's just the Rap that's the similarity.. #GullyBoyhttps://t.co/C2zlSpGmJL

— highflyer 🇮🇳 (@healingnano) January 4, 2019
I really like ranveer singh but #GullyBoy seems like a rip off of 8 mile.

— 2019 sucks (@Iam_tee_) January 4, 2019
Looks like the Indian version of 8 Mile. #BohotHard #AsliHipHop #GullyBoy @RanveerOfficial @aliaa08 @FarOutAkhtar

— Sahhil Tanwer (@SahhilTanwer) January 4, 2019
Sasta Eminem...hope its not an 8 mile rip off..

— Vikram Reddy (@Vikfooty) January 4, 2019
To me #GullyBoy looks like a copy of EMINEM'S movie 8 MILE .

#AsliHipHop pic.twitter.com/PyB3xJkaRf

— Rahul Kr. Sr. (@BiharKaLal) January 4, 2019
For latest stories breaking the internet, check out our BUZZ section!