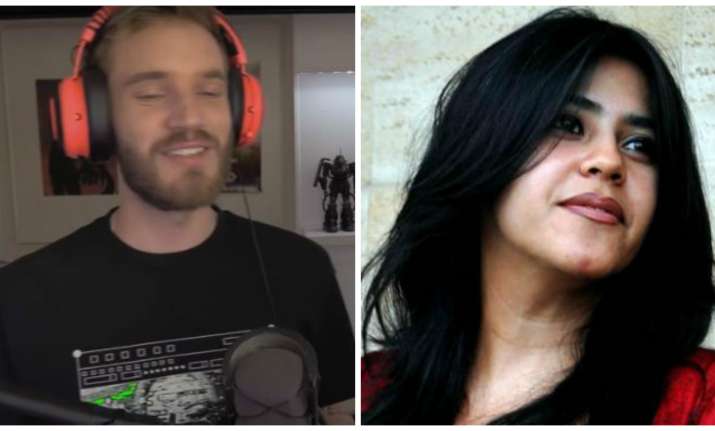 It has not been a long time when Ekta Kapoor lashed out at Swedish YouTuber PewDiePie for mocking the video quality of Kasamh Se's title track. The TV czarina went on a Twitter rant against him for making fun of her daily soap, however, she faced backlash for not understanding the sarcasm.
Now, PewDiePie has made a video with the title, 'She is angry because I made fun of her'. Description of video on his YouTube reads: ''She's mad at me for making fun of her...etika kapoor isnt too happy.'' In the video, the YouTuber says that he has nothing to do with Ekta and he even doesn't know who she is. He also says that very few are defending her over her Twitter rant against him. He also called her shows 'over-dramatic'.
He then goes on to take a dig at Indians via silly Facebook posts. He makes fun of poor English, photoshop (skills) of those Facebook users. He even went on to mock a user commenting '3 Idiots', which many believed was because he didn't know there is a Bollywood movie with this name. PewDiePie says that some Indians can actually joke about themselves, so he thought of going into Indian people Facebook and laugh at them. At the end of the clip, he says don't be like Ekta Kapoor and go on a Twitter rant.
Indians also commented on his video and appreciated the good sense of humour. One follower commented, ''iam very excited because pewdiepie reacting to indian videos and indian culture,'' while the other wrote, ''I like the video....but bro not all Indians are like this....but it was A complete fun''
Now, we wonder how will Ekta react on this?
For all latest news, keep checking our Facebook page