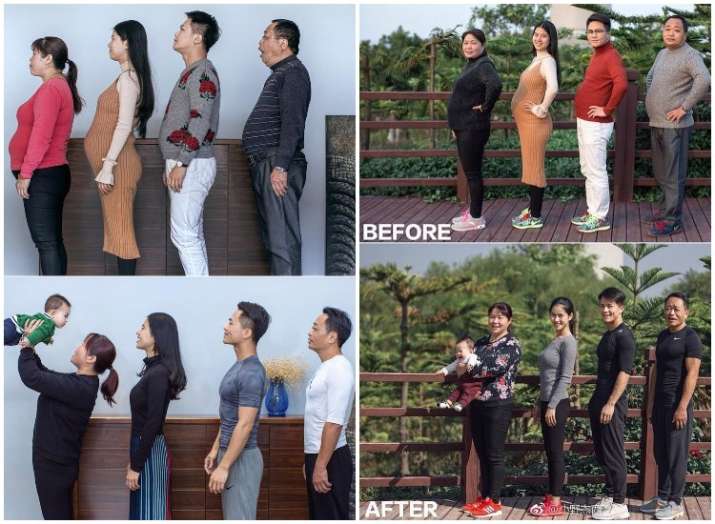 Losing weight isn't that complicated with the right tricks and strategies. All it requires is some motivation from your family and friends to help you lose weight better and faster. Taking inspiration from this, a 32-year-old Chinese photographer named, Jesse Ding decided to lose weight along with his family and took up this as a challenge. The entire family supported each other for a period of six months. Ding has been shooting photos to document their transformations, and posted a series of before and after pictures on his social media accounts, revealing how the entire family transformed their big bellies into flat abs during the six-month period. Check out the pics below! 
The task got a kick when Ding's mother decided to move in with her son and pregnant daughter-in-law ahead of the birth her grandchild. 
Ding's father was overweight and had been struggling with alcoholism, so Ding came up with the idea of getting fit together to get closer to one another and rekindle a passion for living.
As the family united together to beat the bulge, they embarked on a new healthy regime, such as going for power walks that eventually turned into jogging sessions.
And as they all got fitter and healthier, they started working out in the gym, whittling away their excess weight and sculpting impressive six packs in the process.
Ding, who had planned this weight loss journey from March 10 to September 30, tracked their progress every 10 days by taking transformation photos, which also helped them achieve their weight loss goals. 
Ding says that what was originally a 6-month project has now become a way of life for the family.